Newcomers Information
Aloha, E Komo Mai


HELLO AND WELCOME
Undoubtedly, a tour of duty in paradise is one of the most coveted assignments for all branches of the armed forces. A recreational heaven, Hawaii has something for everyone to enjoy: beautiful year-round climate, warm ocean, sandy beaches, mountains, forests, parks and other facilities.
Keep in mind that anytime you move to a new place there are new acceptable behaviors to learn and each community's way of doing things. Throughout the following sections, you and your family will find helpful information to make your new home a comfortable one.
Honolulu International Airport
Honolulu International Airport, also known as Daniel K. Inouye International Airport, is a joint military-civilian airport sharing facilities with Joint Base Pearl Harbor-Hickam. It is the primary hub for international, domestic and inter-island flights. Three miles from downtown Honolulu and 7 miles from Waikiki, Honolulu International Airport is one of three state airports that accommodate international flights. Twenty-five major airlines have service to the airport, including direct service domestic airlines and international airlines.
It's important to note that Honolulu International Airport also features a highly modern and convenient inter-island terminal with convenient, regularly scheduled arrivals and departures between the islands.
Hawaii's airports include:
• Honolulu InternationalAirport (HNL) 808-836-6411
• Hilo InternationalAirport (ITO) 808-961-9300
• Kahului Airport (OGG) 808-872-3830
• Kona International Airportat Keahole (KOA) 808-327-9520
• Waimea-KohalaAirport (MUE) 808-887-8126
Your sponsor should meet you at the airport, provide transportation from the airport, check you in to your new command and provide general information about the community prior to your move. Make sure you are in contact with your sponsor as soon as possible before leaving for Hawaii. Your sponsor will be important to you, especially immediately upon arrival. If you are not met by anyone at the airport and require lodging, contact your respective command duty officer or go to the USO at the airport. The USO, at Honolulu International Airport, is available for use by all military personnel and their family members, reservists on active duty, retirees and Department of Defense civilians on orders. Call the USO at 808-836-3351.
Plants
All plants and propagative plant parts require inspection before they are allowed entry into the state of Hawaii. All plants should be free from insects, diseases and sand, soil or earth. The parcels should be clearly labeled "LIVE PLANTS" so the transportation agency can refer them to a plant quarantine inspector for examination if necessary. It is recommended that you time the shipment to arrive during the early part of the week. Applications for permits or certificates may be acquired by writing U.S. Department of Agriculture, Animal and Plant Health Inspection Service, International Arrivals Building, Honolulu International Airport, Honolulu, HI 96820.
Becoming Kama'aina
Upon arrival, you will be considered "malihini," which is Hawaiian for "visitor" and is applied to newcomers and tourists. Longtime residents and those born in Hawaii are called "kama'aina," which means "child of the land."
It is not an insult to be called malihini, but it is a distinction that allows locals to help newcomers and visitors become familiar with the lifestyle and culture of Hawaii. So, how do you become a kama'aina? Some people say it is when you get your first Hawaii driver's license; eat kimchee with chopsticks; collect aloha shirts and wear ties and formal wear only when required by duty; understand the directions "mauka" (toward the mountain), "makai" (toward the ocean), "Diamond Head" and "Ewa" (toward the beach); say "shave ice" instead of snow cone; understand basic Hawaiian pidgin such as puka, talk story and da kine; know how to make the "shaka" hand sign; or order saimin with Spam instead of chicken noodle soup.
Nobody knows for sure when you become a kama'aina. It just happens after a while. You'll know when because you'll feel right at home. Kama'aina status also qualifies you for special discounts, or "kama'aina rates," in Hawaii with airlines, rental car agencies and getaway weekends at neighbor island resorts. All you have to do is prove you live here. A Hawaii driver's license, or any identification with your new home address, will do fine.
If you choose to retain your home state driver's license, you may still qualify for many of these kama'aina rates with a state ID card. You will find that the majority of the people of Hawaii are warm and appreciative toward their friends and neighbors in the military. All you have to do is live with the aloha spirit. That means caring for others around you and respecting the precious island environment. That's the responsibility of all kama'ainas.
There is plenty to see and do, so use your free time to "play tourist" and enjoy paradise. Enjoy Hawaii!
Ethnic Diversity
Hawaii is more than a surf-and-sand paradise, as it is rich in U.S. history, provides excellent opportunities to study the environment and is the bridge that connects the U.S. with Asia-Pacific partners. There are a plethora of ethnicities represented, from Japanese, Chinese and Filipino to Hawaiian, Portuguese and Korean.
Here are hints to get acclimated fast and relatively painlessly:
• Taking the first step to show your aloha spirit pays off. If you have an overly abundant avocado or papaya tree in your yard, take a bag to your neighbor.
• If you host a party, invite your neighbors and make it potluck. Most people love to share their favorite dishes.
• Take your shoes or slippers off before entering a house.
• Don't get upset if you said 5 p.m. and they arrive at 5:45 p.m. "Hawaiian time" is more relaxed.
• Drivers in Hawaii don't honk their horn; it's considered rude. And they don't cut drivers off. Allow others to merge, and you'll usually get a smile and wave.
• However, be aware that some drivers frequently run through red traffic lights.
• Don't refer to the mainland as "the states" or "the U.S." Hawaii has been the 50th state since 1959, and local people get offended if you imply Hawaii isn't part of the United States.
• You may not be able to differentiate between a Samoan, Tongan or a Hawaiian when you first arrive. Visiting the Polynesian Cultural Center is a great way to get acquainted with Pacific Island cultures.
• Try the local food, especially if you're a guest at someone's home. Some of the local favorites include poi (mashed taro root), laulau (pork wrapped in layers of taro or luau leaves) and kalua pig (similar to pulled pork).
• On Friday many residents wear Hawaiian shirts, muumuus or other Hawaiian-style clothing to work but usually with Hawaiian prints that are more subtle and sophisticated than the more casual Hawaii print clothing.
Culture Shock
The previous section mentioned some of the differences that you may experience with a tour in Hawaii. Culture shock is a term used to describe the anxiety commonly experienced when people move to a different cultural environment as they try to go about their daily affairs without the familiar patterns of communication and social interaction.
For most newcomers, Hawaii is a long way from home and a feeling of isolation is to be expected. Additionally, for some people, the absence of familiar food can be sufficient to make a person feel disoriented in the new culture. When you realize that you are a visitor spending probably a short time of your life in Hawaii, you will be coming to the end of your culture shock. Mainland visitors experience culture shock in varying degrees; some hardly notice it at all.Common symptoms of culture shock include:
• Feeling isolated and frustrated.
• Becoming nervous and excessively tired.
• Sleeping a lot, even after you should have recovered from jet lag.
• Feeling excessively homesick. It is normal to miss your home, your family and friends, but if you are thinking of nothing else and writing letters all the time, perhaps even crying a lot, you are probably suffering from culture shock.
• Feeling hostile toward Hawaii as the cause of your discomfort. Minor irritations may make you inordinately angry.
• Becoming dependent on your fellow service members. Of course, these friendships are important and extremely supportive. However, if you make friends exclusively from among your fellow military members and families, you will deny yourself one of the main benefits of your assignment — meeting, interacting with and making new friends from Hawaii.The following suggestions may be helpful:
• Maintain your perspective. Remember that thousands of military members and their families have served in Hawaii.
• Evaluate your expectations. Your reactions to Hawaii will be products both of the way things are and the way you expected them to be. If you determine that your expectations were not completely reasonable, you can do much to reduce the amount of dissatisfaction and unhappiness that you feel.
• Keep an open mind. People in Hawaii may do or say things that people in other states would not do or say. Try to understand that people are acting according to their own set of values and that these values are born of a culture different from yours.
• Do not withdraw.
• Get involved in activities sponsored by the military and civilian community such as craft fairs, music concerts, sporting events and talent shows.
Hotels, Lodging & More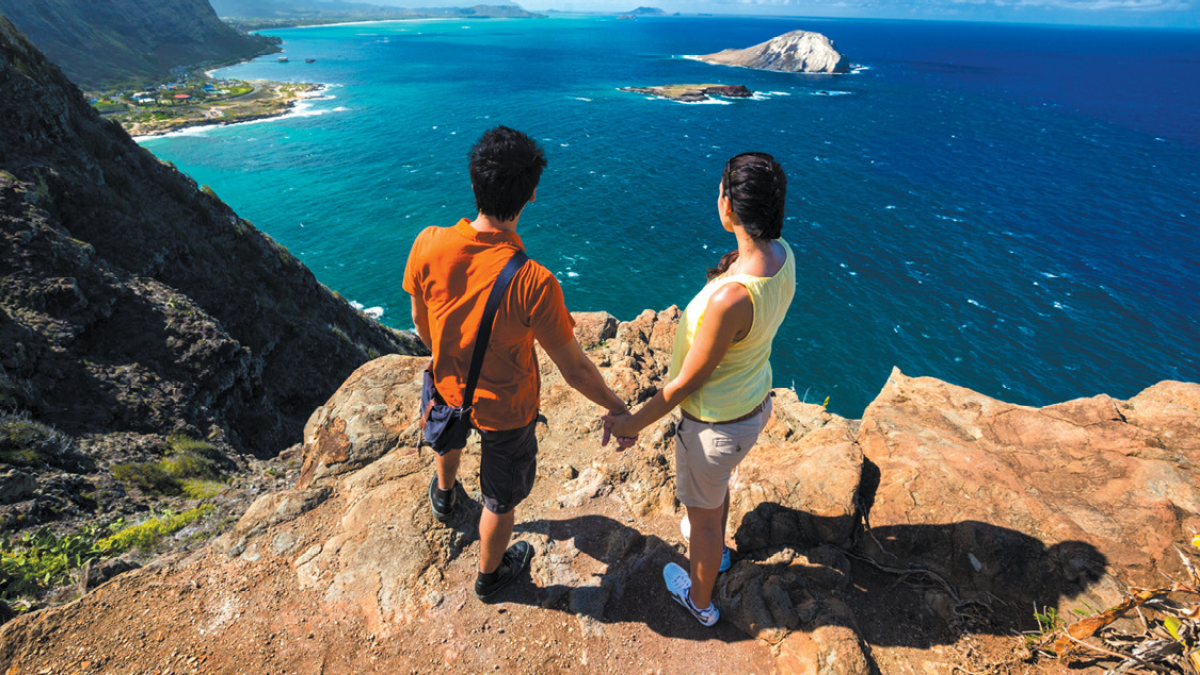 Once you have received orders to Hawaii, you should take care of all military-related requirements such as temporary lodging allowance, housing assignments, etc. For military-specific information related to planning your move, see the chapter of this guide that covers your branch. The military-related requirements will be the most important part of your planning, so work as closely as possible with your command.
Personal Documents
You will need many official documents while in transition. Make sure that your important personal documents are not packed with your belongings, and carry them with you in your carry-on baggage. Hand-carry the following documents as applicable to your family.
Family Documents
• Birth/death certificates (original or certified copies) of family members.
• Marriage certificate.
• Adoption papers.
• Divorce/annulment papers.
• Discharge papers.
• Medical records.
• Passports/citizenship papers.
• School records.
– Individual Education Plan.
– Copy of transcripts.
– Report cards with withdrawal grades.
– Immunization records.
• Legal documents.
– Child custody.
– Power of attorney.
– Wills.
Financial Documents
• Savings account books/checkbooks.
• Names and addresses of banks and credit unions where you recently opened or closed accounts.
• Copy of application for allotment.
Ownership Documents
• Property deeds.
• Motor vehicle ownership papers.
• Stock certificates.
• Government and civilian insurance documents.
• Vehicle no-fault insurance policies.
• PCS documents.
• Household goods shipping and storage documents.
Hotel Reservations
It is recommended that you make your hotel reservations well in advance, especially if you are going to arrive during the peak months of December through March or May through August. Be sure that your TLA will cover accommodations before making reservations.
In addition to the advertisers in this guide, many local resources for newcomers can be obtained from the Hawaii Visitors and Convention Bureau, which can be reached at 808-923-1811 or by visiting www.hvcb.org.
Getting the Most Out of Your Hotel
Whether it's for a long weekend or an extended stay, check out these handy tips before you check-in.
1. Choose the hotel that works best for you.
Find a hotel in advance using one of the many online sites like Kayak, Priceline, Orbitz, Expedia or Trivago, and ensure that the hotel is close to where you want to be. Many hotels charge more for ocean-view rooms in Waikiki, but the Diamond Head views or city views are just as nice. Plus, you're so close to the ocean that you can see it for yourself.
2. Be aware of hidden fees.
The nightly hotel rate might seem like a steal until you see the fine print indicating a daily resort fee and the self-parking or valet fee if you have a car. The resort fee generally covers internet charges, local phone calls, beach towels, movie rentals through DVD Now and other amenities specific to the hotel.
3. Take a free ride.
Many hotels offer free shuttle service from the airport. If the hotel doesn't have a shuttle available, there is a statewide airport shuttle that provides door-to-door service for a fee. For more information on one-way or round trip fares on SpeediShuttle, visit www.speedishuttle.com.
4. Don't raid the mini-bar.
ABC stores are everywhere in Waikiki. Stock up on drinks, snacks, sunscreen and cheap souvenirs here. There are also plenty of 7-Eleven locations throughout that offer delicious (yes, really) local bento boxes.
5. Opt for an alternative stay.
Sites like VRBO.com and airbnb.com offer travelers the chance to stay in a vacation rental, condo, bed-and-breakfast or beach house for less than what you'd generally pay for a hotel. Keep in mind that there won't be as many amenities involved in booking a vacation rental through these sites, but some benefits include more space, full kitchens and the chance to stay in some less touristy places. There are more risks involved in booking your stay through these sites, so be sure to read reviews, research the neighborhood and host of the listing, and make sure you have a contract that fully outlines the cancellation policies.
6. Get to know the island.
There is so much to see and do in Hawaii. Use the Waikiki Trolley or TheBus to visit the Ala Moana Center, Honolulu Zoo, Waikiki Aquarium, King Kamehameha statue, Pearl Harbor, Diamond Head and more. You can hop on and off the trolley or TheBus in front of many of the hotels and tourist attractions in the area. There are small fees for either form of transportation. Information can be found at https://waikikitrolley.com and www.thebus.org.
Kilauea Military Camp – Mountain Cottages
Whether it's the power of the active Kilauea Volcano that you seek or the serenity of a lush tropical rainforest, Kilauea Military Camp has it all. Established in 1916 within what is now known as Hawaii Volcanoes National Park on Hawaii Island, KMC invites visitors to this extraordinary park setting that is also a World Heritage Site and an International Biosphere Reserve.
Celebrating more than 100 years in operation, KMC provides MWR programs, guest facilities and support for America's military members, their families and other authorized patrons
to enjoy.
For recreation, enjoy hiking, cultural events, tennis, golf and bowling, as well as KMC tours of the island's attractions. There is also casual dining, shopping, meeting and catering services. Group packages for 20 or more people may include meeting space, lodging, meals, tours
and shuttle.
Accommodations offer one, two and three bedrooms; select units feature a jetted tub and/or kitchen. All 90 guest units offer a fireplace, cable TV, mini refrigerator, microwave, coffee maker and free Wi-Fi. Eligible users include active or retired members of the Armed Forces, Department of Defense personnel, Reservists and National Guard Members, their families and sponsored guests.
Visit www.KilaueaMilitaryCamp.com for reservations, specials and information. Rates range from $72 to $428 per night based on rank and room category. Reservations may be made 365 days in advance, call 808-967-8333 or email reservations@kmc-volcano.com.
The National Park Service collects an entrance fee of $20 per vehicle, but by showing an active military common access card or dependent identification card at the entrance station, guests may receive a free annual pass valid for all U.S. National Parks.
Food, Family & Fun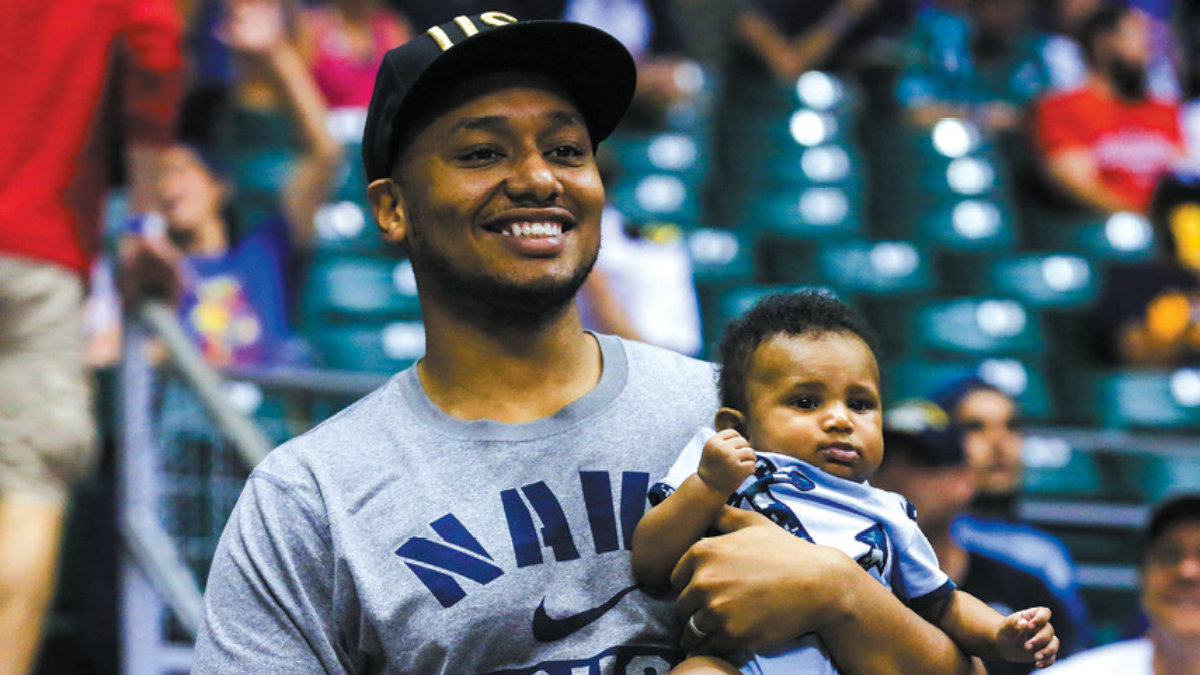 There will be a variety of food and entertainment that are new to you in Hawaii, but most of your favorites will also be available. Just about every type of cuisine you can think of is represented on Oahu, and there are several excellent venues for a variety of entertainment.
DINING
Good food abounds in Hawaii. From the simple but delicious local plate lunch (bento) to the most elegant restaurants with the best views anywhere, Hawaii has something for every taste and budget. In fact, the only problem you might have with local food is eating too much.
You'll want to try Hawaiian luau favorites like the tender, smoky kalua pig, spicy and salted lomi lomi salmon, huli huli (teriyaki chicken), poi (mashed taro root) and a variety of sweet, local tropical fruits. And don't forget the abundance of local fish.
A large Asian influence in Hawaii brings an incredible variety of foods. Chinese restaurants serve the rich, noodle-based Mandarin, spicy Sichuan and local variations including dim sum (bun filled with sweet meats), gau (sticky sweet pudding) and the vegetarian monk's food. Japanese food is popular as well, from the finest gourmet restaurants to the simple ramen stands with their delicious noodles. But sushi is still the "in" food. Also plentiful are Korean barbecue with its smoky, sweet sauces; Vietnamese food with its Chinese and French influence; and spicy Thai cuisine.
Hawaii has had a rich history of meals on wheels dating to the '70s with the introduction of the "manapua man." Much like the ice cream man, the manapua man roams from neighborhood to neighborhood selling fried noodles; chicken nuggets; hot dogs; dumplings; and manapua, a Chinese-style steamed bun filled with pork. The tradition of the manapua man has grown and now you can find monthly events such as Eat the Street, a food truck and street food rally featuring more than 40 vendors on the last Friday of every month in the Kaka'ako district of Honolulu. Visit www.greatlifehawaii.com for more information about dates and shuttle reservations for service members.
In this multicultural paradise, the best foods of the world can be found. Your only problem will be deciding which to choose.
ENTERTAINMENT
Concerts, movies, nightclubs, dancing, karaoke and just about every entertainment you enjoyed on the mainland is available in Hawaii, though perhaps not always in the same quantities. There are several larger facilities for concerts, sporting events and other large-scale entertainment, and if you read the newspapers and local entertainment guides, you will find plenty to do in Hawaii.
Whatever your tastes, Hawaiian music comes highly recommended. You will hear elements of country, folk, rock and blues in the songs of local artists. But you may be surprised to learn that often it is Hawaiian musicians who have influenced their mainland counterparts.
The most popular Hawaiian musicians are amazingly accessible. You can find "Hoku" (Hawaii's Grammys) winners performing at everyday functions, small clubs and restaurants, and at concert venues throughout the islands constantly.
You should attend at least one luau while in Hawaii. There you will experience authentic Hawaiian food, song and dance, and some luaus even teach Hawaiian crafts.
The fine arts are also well-represented in Hawaii. Several excellent museums showcase classical and contemporary art as well as unique Hawaiian and Pacific art. The Honolulu Symphony is on par with any major symphony, and ballet, opera and art exhibits can be found by reading the major daily newspapers. In Hawaii, you can enjoy your favorite entertainment and recreation, and you will likely find new favorites as well.
2019-2020 EVENTS
JUNE 2019
Bethoven & Ravel
Neal S. Blaisdell Concert Hall
777 Ward Ave.
Honolulu, HI 96814 808-768-5252
7:30 p.m. June 1-2
https://blaisdellcenter.com
The Hawaii Symphony Orchestra's season finale features the return of Grammy Award-winning artist Augustin Hadelich performing Beethoven's treasured violin concerto. Celebrated Japanese maestro Naoto Otomo takes the podium in this program that showcases the brilliance of the HSO in works inspired by Greek legends and stories of love, including Ravel's vibrant and rousing work, "Daphnis et Chloé."
Andy McKee
Blue Note Hawaii
2335 Kalakaua Ave.
Honolulu, HI 96815 808-777-4890
www.bluenotehawaii.com
June 2
Andy McKee is among the world's finest acoustic guitarists, entertaining both the eye and the ear as he magically transforms the steel string guitar into a full orchestra via his use of altered tunings, tapping, partial capos, percussive hits and a signature two-handed technique.
Smokestack Presents a Tribute to Amy Winehouse
Blue Note Hawaii
2335 Kalakaua Ave.
Honolulu, HI 96815 808-777-4890
www.bluenotehawaii.com
June 6
Powerhouse vocalist Smokestack pays tribute to the late Amy Winehouse, English soul singer and songwriter.
Keller Williams
Blue Note Hawaii
2335 Kalakaua Ave.
Honolulu, HI 96815 808-777-4890
www.bluenotehawaii.com
June 9
Since he first appeared on the scene in the early 1990s, Keller Williams has defined the term independent artist. His stage shows are rooted around Keller singing his compositions and choice cover songs, while accompanying himself on acoustic guitar. With the use of today's technology, Keller creates samples on the fly in front of the audience, a technique called live phrase sampling or looping, with nothing pre-recorded, the end result often leans toward a hybrid of alternative folk and groovy electronica.
Ali Wong: The Milk & Money Tour
Neal S. Blaisdell Concert Hall
777 Ward Ave
Honolulu, HI 96814 808-768-5252
https://blaisdellcenter.com
June 12-15
Ali Wong is a stand-up comic from San Francisco, now living in Los Angeles. Her first Netflix stand-up special, "Baby Cobra," was filmed while she was seven months pregnant.
Eric Darius
Blue Note Hawaii
2335 Kalakaua Ave.
Honolulu, HI 96815 808-777-4890
www.bluenotehawaii.com
June 14-15
Internationally-known Jazz/R&B Saxophonist, songwriter, producer and performer Eric Darius brings the best of his six highly acclaimed albums to the stage.
Willie K
Blue Note Hawaii
2335 Kalakaua Ave.
Honolulu, HI 96815 808-777-4890
www.bluenotehawaii.com
June 18
The Hawaiian phenomenon Willie K is undoubtedly the only artist in the world who can go into an Irish pub in the middle of Maui and play anything from indigenous acoustic Hawaiian music to jazz, reggae, rock, country and even opera.
Martha Reeves and the Vandellas
Blue Note Hawaii
2335 Kalakaua Ave.
Honolulu, HI 96815 808-777-4890
www.bluenotehawaii.com
June 21-23
The legendary singer shares her hits, including the gospel-tinged "Nowhere to Run," the classic soul favorite "My Baby Loves Me," the pop anthem "Jimmy Mack" and her signature, "Dancing in the Street."
Friends of the Library of Hawai'i Music & Book Sale
Oahu (Honolulu)
McKinley High School Cafeteria
1039 S. King St.
Honolulu, HI 96814 808-536-4174
http://fihhawaii.org
June 22-30
For more than 70 years, this annual sale has offered selections of new and used, out-of-print and bestselling books and media. Choose
from over 150,000 books in every category imaginable — plus CDs, DVDs, comics and manga — during this 11-day sale.
Jose Feliciano
Blue Note Hawaii
2335 Kalakaua Ave.
Honolulu, HI 96815 808-777-4890
www.bluenotehawaii.com
June 30-July 1
Referred to as "The Picasso of his Realm," Jose Feliciano has earned more than 45 gold and platinum records, has had 19 Grammy nominations and won nine Grammy Awards, including the LARAS Award for Lifetime Achievement.
JULY 2019
Pauly Shore
Blue Note Hawaii
2335 Kalakaua Ave.
Honolulu, HI 96815 808-777-4890
www.bluenotehawaii.com
July 6
Apart from actively touring the country with his standup, the comedian is working on a documentary of his life that spans the 1960s, '70s, '80s '90s. He had a role in Adam Sandler's movie "Sandy Wexler."
Matilda, The Musical
Diamond Head Theatre
520 Makapuu Ave.
Honolulu, HI 96816 808-733-0274
July 12-Aug. 4
www.diamondheadtheatre.com/matilda
The musical version of Roald Dahl's book follows 5-year-old Matilda as she is mocked by her cruel parents and escapes into her books. Once she heads to school, Matilda encounters a mean child-hating headmistress and discovers she has psychokinetic powers. Soon, her clever mind and courage leads her and her classmates to a better future. The performance is the Hawaii premiere.
Dane Cook — Tell It Like It Is Tour
Neal S. Blaisdell Concert Hall
777 Ward Ave.
Honolulu, HI 96814 808-768-5252
July 20
Combining energetic physical comedy, clever wordplay and trenchant observations about human behavior, Dane Cook's unique brand of stand-up and accessible guy-next-door attitude have galvanized audiences of all ages.
Elvin Bishop
Blue Note Hawaii
2335 Kalakaua Ave.
Honolulu, HI 96815 808-777-4890
July 26-27
With his buoyant and deceptively loose-sounding ensemble behind him, Elvin Bishop is playing some of the most spirited and distinctive blues slide guitar today.
Hawaiian International Billfish Tournament
Kailua Pier
Kaahumanu Place
Kailua-Kona, HI 96740 808-836-1723
www.hibtfishing.com
July 27-Aug. 4
Teams from around the world gather to fish the world-famous waters off the Kona Coast and a chance of capturing the Hawaiian International Billfish Tournament's (HIBT) prestigious governor's trophy. HIBT event headquarters, retail and tournament control will be at Courtyard Marriott King Kamehameha's Kona Beach. Kailua Pier is a great place to watch the iconic Hawaiian International Billfish Tournament start each morning as boats line up across historic Kailua Bay. Spectators can expect to see lots of scoreboard action as teams weigh in their big catch at the end of fishing each day. Visit www.hibtfishing.com for more information about this year's 60th annual event.
AUGUST 2019
Mary Wilson of The Supremes
Blue Note Hawaii
2335 Kalakaua Ave.
Honolulu, HI 96815 808-777-4890
www.bluenotehawaii.com
Aug. 2-4
It was a vision of musical stardom as a Detroit teen that inspired Mary Wilson, along with Diana Ross and Florence Ballard, to found one of the most successful female singing groups in recording history — The Supremes. Since then, Wilson has written a best-selling autobiography, performed on stage and screen, lectured and toured the world and continues to be looked up to as a singer who set the standard for females in the recording industry.
Heiva I Kauai
Kapaa Beach Park
4-1464 Kuhio Highway
Kapaa, HI 96746 808-822-9447
www.heivaikauai.com
Aug. 3-4
Heiva I Kauai is a colorful and exciting two-day Tahitian cultural festival presented annually the first weekend in August featuring Tahitian solo and group dance and drumming competition in traditional and contemporary styles. Join the family fun with audience participation in Tahitian dance and coconut husking contests. Admission is $7 per day, children 6 and under free. Tickets are available on event days at the gate. The festival has an extensive array of Polynesian arts and demonstrations, with more than 40 vendors offering crafts, jewelry, clothing and island food for sale, with a special emphasis on Tahitian products.
The Phantom of the Opera
Neal S. Blaisdell Concert Hall
777 Ward Ave.
Honolulu, HI 96814 808-768-5252
http://www.broadwayinhawaii.com
Aug. 7- Sept. 1
Hailed by critics as "bigger and better than ever before," this will be the first time any production of Andrew Lloyd Webber's "The Phantom of the Opera" will have played Hawaii in almost 25 years. The production boasts many exciting special effects, including the show's legendary chandelier, new scenic and lighting designs, new staging and choreography.
Jimmie Vaughan
Blue Note Hawaii
2335 Kalakaua Ave.
Honolulu, HI 96815 808-777-4890
www.bluenotehawaii.com
Aug. 13-14
Jimmie Vaughan has dedicated his life to making sure the blues not only stays alive but remains full of life and an inspiration to all who listen.
Made in Hawaii Festival
Neal S. Blaisdell Center
777 Ward Ave.
Honolulu, HI 96814 808-533-1292, ext. 3
www.madeinhawaiifestival.com
Aug. 16-18
This three-day event showcases "Made in Hawaii" products such as food, books, art, gifts, fashions, plants, crafts, produce and more. Plus, there are cooking demonstrations and ongoing entertainment. Visit www.madeinhawaiifestival.com for more information.
Duke's OceanFest
Various locations in Waikiki
www.dukesoceanfest.com
Aug. 17-25
Duke's OceanFest is held each summer in Waikiki in honor of Hawaiian legend Duke Paoa Kahanamoku, who is fondly remembered as the greatest waterman who ever lived, and Hawaii's ambassador of aloha. The annual event is held at venue sites throughout Waikiki. OceanFest features a variety of ocean sports that were close to Duke's heart, including surfing, paddleboard racing, swimming, tandem surfing, surf polo, volleyball and more. The festival also includes a number of surfing events, including a keiki (kid) surf competition, a wahine (woman) longboard competition, a kane (man) longboard competition and tandem events. There are also opportunities for endurance athletes interested in swimming, paddling and running.
Keb' Mo'
Blue Note Hawaii
2335 Kalakaua Ave.
Honolulu, HI 96815 808-777-4890
www.bluenotehawaii.com
Aug. 23-24
Over the years, Keb' Mo' has proven a musical force that defies typical genre labels. Album after album, 14 in total, have garnered him four Grammy Awards and a producer/engineer/artist Grammy Certificate for his track on the 2001 Country Album of the Year, "Hank Williams Tribute — Timeless."
SEPTEMBER 2019
Waikiki Roughwater Swim
San Souci Beach between the Natatorium and the New Otani Kaimana Beach Hotel
8:30 a.m. Sept. 2
The World Open Water Swimming Association has named the Waikiki Roughwater Swim one of the top 100 open water swimming races in the world. The roughwater in this area was the inspiration and original course for the Ironman Triathlon swim course. Many former and future Olympians, world champions and nearly all elite swimmers in Hawaii have participated. Swimmers travel from around the world to tackle this 2.3-mile ocean swim race. Visit www.waikikiroughwaterswim.com for application and race information about the 50th annual celebration this year.
First Friday – Chinatown
Various locations in Chinatown
Nuuanu Avenue and Bethel Street
Honolulu, HI 96817 808-739-9797
www.firstfridayhawaii.com
5 to 9 p.m. Sept. 6
Head to downtown Honolulu and Chinatown every first Friday of the month and dive deep into Oahu's vibrant art scene. On each "First Friday" you can interact with local artists and artisans sharing their work during a festive night that draws a stylish crowd of visitors and locals. From expressive paintings to powerful cultural exhibits, you'll get to see a diverse sampling of Hawaii's burgeoning artistic talent. Go on the Chinatown art walk and browse the galleries that open their doors with exhibits, free entertainment and light refreshments.
HawaiiCon
Sheraton Kona Resort at Keauhou Bay
78-128 Ehukai St.
Kailua, HI 967403
www.hawaiicon.com
Sept. 26-29
This year's event will feature actors John Rhys-Davies and Vic Mignogna, as well as stars from a dozen other shows, cosplayers, space scientists, authors, visionaries, gamers, comic book artists and more. What makes HawaiiCon different? It takes the celebrities on tours with the fans around the island to change their frame of mind. Snorkel, dive, deep sea fish and more with your favorite stars. HawaiiCon is dedicated to creating an intimate experience that hasn't been seen before in a convention. Visit www.hawaiicon.com for more information.
Chinese Moon Festival
Wo Hing Museum
858 Front St.
Lahaina, HI 96761
www.lahainarestoration.org
Sept. 14
Lahaina celebrates the island's agricultural harvest during a traditional Chinese Moon Festival at Wo Hing Museum on Front Street from 10 a.m. to 8 pm. View a display of Maui County Farm produce in the Wo Hing Museum yard. Chinese teas and moon cakes will be served under the sky to the accompaniment of an erhu string performance and lantern dance each evening. Enjoy cultural activities like calligraphy, knot tying and kau chim divination. Kids can learn how to plant Chinese lantern and moon flower seeds and make paper lanterns. Hear a talk on history of moon festivals in China. Watch Cantonese cooking demonstrations; traditional Chinese cuisine will be offered for sale. Admission is free. Visit www.lahainarestoration.org for more information.
6 to 9:30 p.m. Sept. 21
The annual Waikiki Hoolaulea is Hawaii's largest block party, and the celebration marks its 67th anniversary this year. Thousands of people will take to the streets along Kalakaua Avenue for food, fun and entertainment. There will be performances by the various genres of Hawaiian music and hula halau (hula schools). Hawaiian crafts, flower leis and many varieties of island cuisine will be featured.
Aloha Festivals Floral Parade
Ala Moana Park
1201 Ala Moana Blvd.
Honolulu, HI 96814 808-923-2030
www.alohafestivals.com/aloha-events.htm
9 a.m. to noon Sept. 28
Aloha Festivals is a week-long celebration of Hawaiian music and culture. There are two main events, the Hoolaulea (really big party) and the Aloha Festivals Parade. The Aloha Festivals Parade is a colorful procession of pa'u (long-skirted) horse riders, exquisite floats with cascades of Hawaiian flowers, hula halau, marching bands and dignitaries enlivening Kalakaua Avenue. Admission to this 72nd anniversary celebration is free.
OCTOBER 2019
Hawaii Food & Wine Festival
Various locations 808-738-6245
www.hawaiifoodandwinefestival.com
Oct. 5-27
This festival takes place over three weekends on multiple islands and features over 100 internationally renowned master chefs, culinary personalities, and wine and spirit producers. The festival on Hawaii Island, Maui and Oahu includes wine tastings, cooking demonstrations and exclusive dining possibilities with a focus on the state's local farmers, fishermen and ranchers.
HSO: The Music of Queen
Neal S. Blaisdell Concert Hall
777 Ward Ave.
Honolulu, HI 96814 808-768-5252
https://blaisdellcenter.com
7:30 p.m. Oct. 18-19
Experience the power of Queen's music with the Hawaii Symphony Orchestra's full roster behind awesome vocals and a full rock band. Brody Dolyniuk is back with his stunning vocals sure to impress any Freddie Mercury fan, and Brent Haven's phenomenal arrangements and command of the orchestra will bring nostalgia back to any lover of the iconic rock legends.
The Illusionists: Live From Broadway
Neal S. Blaisdell Concert Hall
777 Ward Ave.
Honolulu, HI 96814 808-768-5252
https://blaisdellcenter.com
Oct. 23-27
Direct from Broadway, the world's bestselling magic show is coming to Honolulu. This mind-blowing show displays the talents of five of the most incredible illusionists on earth. Combining outrageous acts with even more astonishing ones, The Illusionists dazzle audiences of all ages.
NOVEMBER 2019
Vans Triple Crown of Surfing
North Shore
www.vanstriplecrownofsurfing.com
Nov. 25-Dec. 6
Oahu's North Shore is home to several Association of Surfing Professionals events that will crown surfing's new world champions. Catch the action at the second and third events of this series with the O'Neill World Cup of Surfing and women's Roxy Pro at Sunset Beach and the Billabong Pipeline Masters at the infamous Banzai Pipeline. Schedule varies depending on surf conditions. Check the website for more details.
First Friday – Chinatown
Various locations in Chinatown
Nuuanu Avenue and Bethel Street
Honolulu, HI 96817 808-739-9797
www.firstfridayhawaii.com
5 to 9 p.m. Nov. 1
Head to downtown Honolulu and Chinatown every first Friday of the month and dive deep into Oahu's vibrant art scene. On each "First Friday" you can interact with local artists and artisans sharing their work during a festive night that draws a stylish crowd of visitors and locals. From expressive paintings to powerful cultural exhibits, you'll get to see a diverse sampling of Hawaii's burgeoning artistic talent. Go on the Chinatown art walk and browse the galleries that open their doors with exhibits, free entertainment and light refreshments.
Kona Coffee Cultural Festival
Alii Drive
Kailua-Kona, HI 96740 808-990-6511
www.konacoffeefest.com
Nov. 1-10
The 49th annual Kona Coffee Cultural Festival hosts more than 40 events over a span of 10 days that are wide-ranging and flaunt the nearly 200 years of culture behind Kona coffee. Celebrate Kona's world famous coffee with fun activities for all ages from music and cultural dances and of course lots of opportunities to taste Kona coffee.
Hula Girl Festival and Hula Ho'olaulea
Waikiki Beach Walk
Kalakaua Avenue, Lewers and Kalia Road
Waikiki, HI 96815 808-951-6699
www.hulagirlfestivalhawaii.com
Nov. 8-10
Hula dancers from around the world will be in attendance to celebrate the world of hula. Kalakaua Avenue will be blocked off to feature a half mile of stages, hula booths, exhibitions, hula supplies, live performances, Hawaiian music and a craft fair. Visit the website for more information.
Blood Sweat & Tears
Oahu (Honolulu)
Blue Note Hawaii
2335 Kalakaua Ave.
Honolulu, HI 96815 808-777-4890
www.bluenotehawaii.com
Nov. 21-Nov. 24
Blood Sweat & Tears has had many configurations in its 50 plus years of touring, but one thing for sure is that BS&T has musically demanding fans and they are never disappointed. This legendary rock, funk and jazz band defies categorization and tours with a mix of the greatest musicians available.
DECEMBER 2019
Eddie Aikau Big Wave International
Waimea Bay, North Shore
www.theeddieaikau.com
December 2019 through February 2020
The "Eddie" is one of the world's most prestigious big-wave surfing contests held each year on the North Shore of Hawaii in memory of one of the world's greatest watermen — Eddie Aikau. Aikau was a Hawaiian surfer lifeguard and ocean safety expert who lost his life while trying to save his fellow shipmates on an expedition in 1978.
Holiday Choral Concert
Oahu (Honolulu)
Kawaiahao Church
957 Punchbowl St.
Honolulu, HI 96813 808-521-2982
http://hyoc2.weebly.com
December TBD
The Hawaii Youth Opera Chorus, Hawaii's most advanced and longest-running community youth choir, will delight listeners at its annual Holiday Choral Concert. Featuring 120 singers from kindergarten to 12th grade, the chorus will present holiday music from Hawaii, favorite holiday tunes and music for the season from around the world in this free concert. A free-will offering will be available.
Honolulu City Lights
Opening Night: Dec. 2
Every year, Honolulu Hale (Honolulu's city hall, pronounced Honolulu Hah-leh) in downtown Honolulu puts on a month-long Christmas lights and decorations display. Highlights include the large outdoor tree, Shaka Santa and Tutu Mele (Mrs. Claus), the indoor tree display and the corridor of wreaths. The Honolulu City Lights kicks off with a parade and tree-lighting ceremony the first weekend in December and runs through the beginning of the next year. Visit www.honolulucitylights.org for a list of free activities and events. There are also food vendors and children's rides at cost.
First Friday – Chinatown
Various locations in Chinatown
Nuuanu Avenue and Bethel Street
Honolulu, HI 96817 808-739-9797
www.firstfridayhawaii.com
5 to 9 p.m. Dec. 6
Head to downtown Honolulu and Chinatown every first Friday of the month and dive deep into Oahu's vibrant art scene. On each "First Friday" you can interact with local artists and artisans sharing their work during a festive night that draws a stylish crowd of visitors and locals. From expressive paintings to powerful cultural exhibits, you'll get to see a diverse sampling of Hawaii's burgeoning artistic talent. Go on the Chinatown art walk and browse the galleries that open their doors with exhibits, free entertainment and light refreshments.
Pearl Harbor Memorial Parade
Oahu (Waikiki)
319 Lexington Blvd.
Honolulu, HI 96818 808-441-1000
www.pearlharborparade.org
6 p.m. Dec. 7
Cobra and Huey helicopters join other floats and bands to parade down Kalakaua Avenue in Waikiki to honor and pay respect to Pearl Harbor survivors, veterans, active-duty military and their families. The evening parade starts at Ft. DeRussy in Waikiki and proceeds down Kalakaua Avenue to Kapiolani Park.
HAPA
Oahu (Honolulu)
Blue Note Hawaii
2335 Kalakaua Ave.
Honolulu, HI 96815 808-777-4890
www.bluenotehawaii.com
Dec. 15
Meaning "half" in Hawaiian, the name HAPA is inspired by the band's two members, Keli'i Kaneali'i, from South Pacific ancestry and Barry Flanagan, from New Jersey. The group's self-titled album, released in 1993, remains the No. 1 selling recording by a group or duo in the history of recorded Hawaiian music. Due to popular demand, the original members will reunite once again on the Blue Note Hawaii stage.
A Frank Sinatra Holiday
Oahu (Honolulu)
Blue Note Hawaii
2335 Kalakaua Ave.
Honolulu, HI 96815 808-777-4890
www.bluenotehawaii.com
Dec. 16
Native New-Yorker and trumpeter Mike Lewis presents a celebration of what would be Frank Sinatra's 103rd birthday with his own Mike Lewis Big Band. Featuring tunes that were performed by "Ol Blue Eyes" himself, as well as arrangements by his famous accompanist, the great Count Basie.
Johnny Mathis 2019
Neal S. Blaisdell Concert Hall
777 Ward Ave.
Honolulu, HI 96814 808-768-5252
https://blaisdellcenter.com
Dec. 20-21
Beloved singer Johnny Mathis returns to perform his greatest hits and Christmas classics with a 35-piece orchestra, including members of the Hawaii Symphony Orchestra and the Royal Hawaiian Band.
Rent: 20th Anniversary Tour
Neal S. Blaisdell Concert Hall
777 Ward Ave.
Honolulu, HI 96814 808-768-5252
https://blaisdellcenter.com
Dec. 24-29
This Pulitzer Prize- and Tony Award-winning masterpiece returns to the stage in a vibrant 20th anniversary touring production. A re-imagining of Puccini's "La Bohème," "Rent" follows an unforgettable year in the lives of seven artists struggling to follow their dreams without selling out. Contains mature themes and situations. Visit www.blaisdellcenter.com for more information.
Star of Honolulu New Year's Eve Cruise
Oahu (Honolulu)
1 Aloha Tower Drive
Honolulu, HI 96813 808-983-7827
www.starofhonolulu.com
Dec. 31
The Star of Honolulu hosts a New Year's Eve night of ocean dining, live entertainment, party favors and spectacular ocean views of Waikiki fireworks. Guests have their choice of three midnight cruise options. Visit the website for more information, including cost.
JANUARY 2020
Hatsumode
Oahu (Honolulu)
1239 Olomea St.
Honolulu, HI 96817 808-841-4755
http://www.e-shrine.org
Jan. 1
Embrace the cultural celebration of the Japanese by attending a shrine on New Year's Day. At this special event at Hawaii Kotohira Jinsha-Hawaii Dazaifu Tenmangu shrine, you can be blessed for the new year, get your head bitten by a Japanese Shishi lion for good luck, be invigorated by taiko drums and partake of ozoni mochi soup.
MAY 2020
Lei Day Celebration
Kapiolani Park
2806 Monsarrat Ave.
Honolulu, HI 96815
May 1-2
Held May 1 every year regardless of the day of the week, Lei Day is celebrated statewide and is uniquely Hawaiian. This event features a day of lei exhibits, hula performances, live music, food and the giving and receiving of leis. The closing ceremony for the annual celebration is at Mauna 'Ala (The Royal Mausoleum) and Kawaiâha'o Church. This event is free and open to the public. For more information visit www.facebook.com/LeiDayCelebration.
Maui Brewers Festival
A&B Amphitheater
One Cameron Way
Kahului, HI 96732
May 2020
One of Maui's top festivals, the Maui Brewers Festival is hosted by Maui Arts & Cultural Center as an annual fundraising event. Enjoy beer tastings from local and national craft breweries, island-style pupu, live music, door prizes and home brew competitions. Visit www.mauiarts.org/brew_fest for more information.
Bike Rides 2019
Honolulu Century Ride
Kapiolani Park Open
Kapi'olani Regional Park
3840 Paki Ave, Honolulu, HI 96815
www.hbl.org/honolulucenturyride
Sept 29
The annual Hawaii Century Ride showcases some of the most beautiful country roads in the state including the Akoni Pule Highway, Kohala Mountain Road, Mamalahoa Highway (Hawaii Belt Road) and the Queen Ka'ahumanu Highway. Cyclists may choose to ride one of several distances: 100 miles (the century route), 75 miles, 50 miles or 25 miles with several aid stations along each course, plus food and festivities at the end. Visit the website for registration, route maps and more information.
Aloha Fun Ride
Kapiolani Park Open
Kapi'olani Regional Park
3840 Paki Ave, Honolulu, HI 96815
www.hbl.org/hcrafr
Sept 29
For a more casual cycling experience than the Honolulu Century, the Aloha Fun Ride is perfect for any level of rider. Starting just after the Century Ride, the Aloha Fun Ride offers beautiful scenery and aid stations and mechanical assistance on its 18-, 9- or 5-mile routes. Whichever distance you choose, you'll enjoy the same festival with good music, tasty food and great company at the end. Visit the website for registration, route maps and more information.
Ride of Silence
Kona Community Aquatic Center
75-5530 Kuakini Highway
Kailua-Kona, HI 96740
Other locations in Kahului and Kihei
www.rideofsilence.org
9:30 a.m. May 18
Every year, cyclists around the world take to the roads in memory of those who have been killed or injured in collisions with vehicles.
The Ride of Silence stays true to its name with a silent ride at no more than 12 mph. There is no fee to register, no sponsors and no T-shirt. Join this 2.1-mile ride to help raise cycling awareness while showing respect for those who have been killed or injured on the road. For more information, visit www.rideofsilence.org.
Cycle to the Sun
99 Hana Hwy
Paia, HI 96779
https://cycletothesun.com
June 29
The Cycle to the Sun ride climbs 10,000 feet over 36 miles and has gradients up to 18 percent. As a comparison, the famed Mont Ventou in the Tour de France is only a 5,336-foot climb over 13.6 miles. The Cycle to the Sun starts in Paia at sea level and finishes on top of the Haleakala Volcano at just above 10,000 feet. Riders have the option of the signing up for the full distance or for a three-person relay. This grueling and rewarding ride benefits the Paia Youth & Cultural Center, providing Maui kids with fun, educational and recreational activities. Visit https://www.bikereg.com/41582 for more information or to register.
Zachary Manago's Ride in Paradise
47 miles start: YMCA Camp Erdman, 69-385 Farrington Hwy, Waialua, HI 96791
32 miles start: Pokai Bay Beach Park, 85-0-85-42 Pokai Bay St, Wai'anae, HI 96792
8 miles start: Neal S. Blaisdell Park, 98-319 Kamehameha Hwy, Aiea, HI 96701
July 13
Zachary Manago's Ride in Paradise honors an avid cyclist who was killed in December 2010 while on a ride around Oahu. He was riding on the road shoulder with proper equipment and lights when struck by a hit-and-run driver. Manago was passionate about safer bicycling facilities and wanted to make Hawaii safe so more people could bike. This free event has multiple start locations with routes of 66 miles, 35 miles or 11 miles. Visit www.hbl.org/events/zachsride for more information.
BICYCLING INFORMATION AND EVENTS
Take Your Bike for a Tuneup or Buy a Bike
Before you ride, take your bike for a tuneup or buy a bike locally and support your local bike shops. Not only are shop staff knowledgeable about bikes, but they can help new cyclists learn the best places to ride. On Oahu, local bike shops can also help ship your bike anywhere.
Register Your Bike
On Oahu, all bicycles with 20-inch wheels or larger are required to be registered in the city and county of Honolulu. There is a one-time fee of $15 and a fee of $5 when transferring ownership of a bicycle. After payment of the fee, the owner will be provided with a decal to be attached to the bicycle frame's seat tube facing forward. All taxes collected from the registration fees are deposited in a special bikeway fund, which is only used for bicycle-related city projects and programs.
Bikes on TheBus
All buses on Honolulu's TheBus system are equipped with two- or three-capacity bike racks. Only single-seated, two-wheeled bikes are allowed on TheBus.
Safety reminders for loading a bike: When waiting to load a bike, always remain on the curb until the bus has come to a complete stop. Never approach the bus from a side street. Bicycle racks are designed to be used from the curbside or the front of the vehicle.
Learn to Ride Safely — Adults
The Hawaii Bicycling League offers Commuter Cycling 101 and Walk, Bike, Drive classes free at Windward Community College and the University of Hawaii – Manoa. The league also offers Traffic Skills 101 classes through partnerships with local shops.
Commuter Cycling 101 is a two-hour introductory course on riding your bicycle in Hawaii, following bicycle traffic laws and being safe while commuting. With a League of American Bicyclists-certified instructor, 30 minutes will be spent in a classroom learning how to navigate Hawaii's roads and interact with pedestrians and motorists. Another 30 minutes will be spent practicing defensive bicycling skills in a safe and controlled parking area. One hour will be spent implementing these practices and developing your skills on a group safety ride through the local neighborhood.
Walk, Bike, Drive is a safety course for anyone who sets foot or tire on Hawaii's streets and roads. Learn about comprehensive traffic safety with an hour-long classroom session on how to ensure your safety and the safety of others as a pedestrian, bicyclist and motorist. It will cover the rules of the sidewalk and roads, plus best practices to safely interact with those using other modes of transportation. Learn how to get safely across the street as a pedestrian, how to keep others safe when operating a motor vehicle and more.
Traffic Skills 101 will provide you with the skills and confidence needed to enjoy cycling in Honolulu. Course includes discussion on your rights and responsibilities under Hawaii law, where to ride on the road, who to ride with and where for a more enjoyable and safer experience, and how to develop your "radar" and sixth sense for safety. In addition, there will be discussion and hands-on training on what equipment to use; what clothes to wear for safety and comfort; and how to fix a flat, adjust your brakes and gear, and perform other general maintenance.
For more information about organized rides, advocacy and bicycle resources in Hawaii, visit www.hbl.org.
Learn to Ride Safely — Keiki (Children)
The city and county of Honolulu sponsor the BikeEd Hawaii bicycle education program, which is run by the Hawaii Bicycling League. This nationally recognized program teaches on-road bicycle safety classes to fourth-grade students on Oahu.
The Hawaii Bicycling League also offers free community bike rodeos throughout the year on Oahu. Go to www.hbl.org for more information.
Join a Weekly Ride and Register for an Event
Local bike shops and the Hawaii Bicycling League offer weekly rides and annual events. See the Oahu ride calendar at www.hbl.org/events.
Resources
• Hawaii Bicycling League: www.hbl.org
• Hawaii Cycling Club: www.hawaiicyclingclub.com
• Bike maps (Oahu): http://hidot.hawaii.gov/highways/bike-map-oahu
• City and County of Honolulu Department of Transportation Services: www.honolulu.gov/dts
• TheBus: www.thebus.org/howtoride/howtoride.asp
Annual Rides 2018
Cycle to the Sun
2695 S. Kihei Road
Maui, HI 96753
www.cycletothesun.com
June 30
The Cycle to the Sun ride climbs 10,000 feet over 36 miles and has gradients up to 18 percent. As a comparison, the famed Mont Ventou in the Tour de France is only a 5,336-foot climb over 13.6 miles. The Cycle to the Sun starts in Paia at sea level and finishes on top of the Haleakala Volcano at just above 10,000 feet. Riders have the option of the signing up for the full distance or for a three-person relay. This grueling and rewarding ride benefits the Paia Youth & Cultural Center, providing Maui kids with fun, educational and recreational activities. Visit www.cycletothesun.com for more information or to register.
Zachary Manago's Ride in Paradise
66 miles start: 829 Kamehameha Highway,Mililani, HI 96789
35 miles start: 85-0-85-42 Pokai Bay St.,Wai'anae, HI 96792
11 miles start: Neal S. Blaisdell Park, 98-319 Kamehameha Highway, Aiea, HI 96701
July 7
Zachary Manago's Ride in Paradise honors an avid cyclist who was killed in December 2010 while on a ride around Oahu. He was riding on the road shoulder with proper equipment and lights when struck by a hit-and-run driver. Manago was passionate about safer bicycling facilities and wanted to make Hawaii safe so more people could bike. This free event has multiple start locations with routes of 66 miles, 35 miles or 11 miles. Visit www.hbl.org/events/zachsride for more information.
SURFING
Hawaii is not only the birthplace of surfing but since 1998, surfing has been the official sport of the Five-O state. Today, we see surfing in various forms — from boogie boarding to stand-up paddling. The islands are blessed with some of the best breaks in the world and have something for everyone. Surfing is a terrific way to get out and enjoy the beauty of this extraordinary state.
If you're new to Hawaii or to surfing, there are great local shops that sell used and new boards. Purchasing a board can be a good investment, and knowledgeable sales staff can ensure that you are sized with the board that fits your ability and that will give you years of fun. Surf shop employees are usually happy to point you to good surf spots that reflect your skill level and the best waves for time of year. Many shops even provide lessons or referrals.
Once you've got your board, it's important to be aware of the local surfing etiquette. Being mindful of a few helpful hints will make your time out on the water safe and enjoyable.
First, always check wave and water conditions, and only surf at a spot that matches your ability. If you don't know, ask a lifeguard or other surfers. Take time to observe the ocean and the overall vibe at any new surf spot. Generally, several good beginner sites can be found near Waikiki. The site known as Canoes has easy-to-ride waves and is a beginner's haven, but the downside can be the crowds. Queens, just off Kuhio Beach Park, has something for everyone, and you'll find locals and tourists alike on these waves. White Plains Beach (Kalaeloa) has surf almost year-round and is known for its great break for beginners.
If you are looking for surf on the Windward side, consider two spots on MCBH. Pyramid Rock has a lot of rocks when there's a swell. The alternative is North Beach, which has fun rides when an east or northeast swell is up. The surf can get pretty big here, and the lifeguards may "red flag" it. On the North Shore, Pua'ena Point can be OK for beginners if you stay on the inside; avoid the outside where the surf is for the advanced. For the most part, save the rest of the North Shore, Makaha and Ala Moana Bowls until your surfing skills have progressed.
Once you've decided on your spot, start paddling. It's best to be wide of the break as you head out; watch for riders because at this point it's your responsibility to stay out of their way. Always wear a leash, and never let your board go, maintaining control at all times. If you are new to surfing, never let a wave get between you and your board. Once in the lineup, keep yourself pointed toward the ocean between sets. A famous Hawaiian and the father of modern surfing, Duke Kahanamoku helped popularize the motto, "Never turn your back on the ocean." Duke was a legendary surfer, gold medal Olympic swimmer and lifeguard. From a safety standpoint he recognized the value of not turning your back on the ocean, but he also tried to relate the respect Hawaiians have for the ocean.
One of the most important bits of surfing etiquette in Hawaii is don't drop in on someone else's wave. Dropping in on a fellow surfer won't endear you to those around you, so "try wait" (wait a minute). Again, Kahanamoku's advice still holds true, "Just take your time — wave comes. Let the other guys go, catch another one." So if someone else is in position, hang in there and wait your turn in the lineup. It will make your day on the water much more pleasant.
If you'd like to see pro surfers at their best, each winter the North Shore serves up huge waves as storm-generated swells make their way across the Pacific. While this doesn't make for good beginning surfing, it makes for great surf competitions. From late November to mid-December, Oahu's North Shore hosts the Vans Triple Crown of Surfing, which includes the Reef Hawaiian Pro at Haleiwa, the Vans World Cup of Surfing at Sunset Beach, and the Billabong Pipeline Masters at Pipeline. These events bring together the best professional surfers in an amazing display of talent.
Watch for the Quiksilver in Memory of Eddie Aikau Big Wave Invitational between early December and late February — when the "bay calls the day." The event is only held when the open ocean swells reach 20 feet, meaning wave faces of over 30 feet in Waimea. This invitational brings the best in big wave surfing in honor of Eddie Aikau, Waimea Bay's first lifeguard and renowned big wave surfer. Many smaller surf competitions are frequently held throughout the island; just check with local surf shops for information.
Whether you are taking to the waves or just watching competitions, surfing is a great way to make new friends; a smile and a little aloha go a long way — so just relax and have fun.
MARINE WILDLIFE
How to Enjoy Hawaii Responsibly
From majestic humpback whales to playful Hawaiian spinner dolphins and elegant sea turtles, marine wildlife is abundant in the ocean surrounding the Hawaiian Islands.
Much can be learned and enjoyed by seeing these amazing creatures in their natural setting. However, years of scientific research has concluded that keeping proper distances away from marine wildlife is crucial to their health, preserving their habitat and keeping human observers safe.
The U.S. Office of Protected Resources under NOAA Fisheries recommends not swimming with wild dolphins. Disturbing wildlife interrupts their ability to perform critical functions such as feeding, breeding, nursing, resting or socializing. The National Marine Fisheries Service, the National Marine Sanctuaries and the Hawaii Department of Land and Natural Resources have developed the following code of conduct for viewing whales, dolphins, monk seals and sea turtles in Hawaii.
When choosing an ocean activity, ask the provider if it follows these guidelines:
• Remain at least 100 yards from humpback whales and at least 50 yards from other marine mammals (dolphins, other whale species and Hawaiian monk seals).
• Do not swim with wild dolphins.
• Bring binoculars on viewing excursions to assure a good view from the recommended viewing distances.
• Do not attempt to touch, ride or feed turtles.
• Limit your time observing an animal to a half-hour.
• Marine mammals and sea turtles should not be encircled or trapped between boats or shore.
Many activity operators follow these guidelines to provide a safe, responsible and eco-conscious experience. However, a small handful of operators advertise "swim with dolphins" experiences in the wild, and NOAA does not support, condone, approve or authorize activities that approach, interact or attempt to interact with whales, dolphins, porpoises, seals or sea lions in the wild. This includes attempting to swim with, pet, touch or elicit a reaction from the animals.
Dolphins have a reputation for being friendly. However, they are wild animals that should be treated with caution and respect. Interactions with people change the behavior of dolphins for the worse. They lose their natural wariness, which makes them easy targets for vandalism and shark attack.
Wild dolphins will bite when they are angry, frustrated or afraid. When people try to swim with wild dolphins, the dolphins are disturbed. Dolphins that become career moochers can get pushy, aggressive and threatening when they don't get the handout they expect.
According to NOAA, all whales, dolphins and seals are protected by the Marine Mammal Protection Act.
Home, Furniture & Decor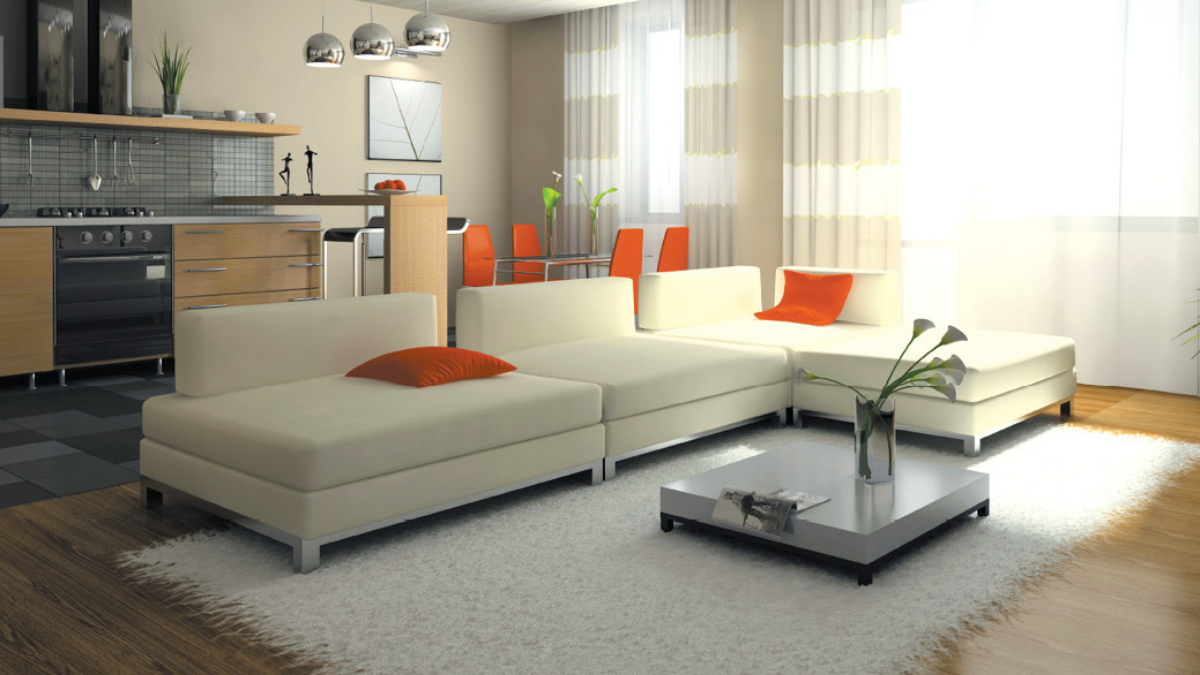 Moving to Hawaii means an opportunity to transform your new home into your personal paradise — whether you choose to rent or buy your housing, or choose a traditional interior design theme, a contemporary style or tropical Hawaiian decor. Regardless of personal preferences, there are plenty of housing options and quality furniture and design stores to choose from, along with moving and storage companies that can help you ship the items you want to bring with you.
Furniture basics
Your home is an expression of your family's style and needs, whether that means using multifunctional pieces to optimize a small space, creating spacious comfort for family movie nights or designing the perfect room where you gather with friends.
Furniture takes up the majority of space in your home and helps make your home feel lived in, welcoming and complete. When choosing furniture, keep in mind that homes in Hawaii tend to be smaller than those in other parts of the country. Think carefully about what you choose to ship to your new home — avoid bringing any oversized pieces and sectional couches and sofas. While they fit perfectly well in a spacious home in Florida or Minnesota, they will make an uncomfortable fit in most homes you will find in Hawaii. It's best to sell the large pieces before you leave, and buy new, smaller ones when you arrive at your new destination.
Downsize to right-sized
While it's always important to consider downsizing your personal belongings when moving to a new installation, we can't emphasize enough that space is at a premium in Hawaii, simply because of the limited, natural geography of the islands. In addition, many resources are limited because of the distance items must travel to reach the islands, including housing materials. You'll feel more comfortable in your new home if you plan ahead for the challenges smaller houses present.
When packing your possessions to be moved, place the items in three categories: use it, love it, leave it. If you haven't used the item in the past year or don't truly love it for sentimental reasons, consider leaving it behind. Many possessions are still beautiful or functional, but in different stages of our life, they become unnecessary. Friends, family and donation centers will be happy to accept your extraneous items and can give them a new chance to be practical and appreciated. Visit websites such as www.goodwill.org, www.salvationarmyusa.org or www.clothingdonations.org to arrange a pickup of unneeded items as you prepare to ship your belongings.
Of the belongings that you do plan to ship, start thinking about a place for everything and keeping everything in its place. Having an organized home will go a long way in keeping it from feeling cluttered. Shelving and storage with vertical design will minimize the strain on any floorplan, and furniture with built-in storage features will be especially helpful. Look for creative ways to use containers or space behind objects, such as large furnishings or doors, to either hold or hide personal items that would usually spread out over flat, horizontal surfaces.
The key is to remember that a smaller home doesn't necessarily mean you'll have to live without the items you truly cherish. Leave behind items that don't add function or joy to your life, and plan for a good place for the things you do decide to bring. You may even find that lightening your load of possessions makes you feel freer and lighter mentally. At the least, downsizing before your move may give you more space to add personal items you will cherish as part of your stay in Hawaii.
Covering the essentials
While waiting for your shipped items to arrive, consider using the Lending Closet, which loans common household items for a designated period of time. In addition to tables and chairs, the closet has small electrical appliances, pots, pans, dishes, ironing boards, high chairs, cribs and child car seats.
When you live in privatized housing, you will be provided with kitchen appliances such as a dishwasher, refrigerator and stove. A washer and dryer are also provided depending on rank. Leave your personally owned kitchen appliances and washer/dryer behind; you won't need them. Air conditioners are not included but can be bought and installed if desired. It's not necessary to bring yard maintenance tools such as mowers and weed-wackers because most tools you will need can be borrowed from the privatized housing office.
Shopping opportunities
Honolulu has excellent shopping options when you are ready to start looking for furnishings for your new home. When selecting furniture, pick timeless, functional pieces that fit your space and budget. Choose from contemporary and modern, traditional or a bit of both in a unique eclectic mix. There are no rules, so don't be afraid to get creative and buy furniture you love.
If you choose a Hawaiian theme, wood furniture is the main material used in island decor. Bamboo is one of the best picks. The goal of this theme is to enhance an open space. Start with the essential furniture pieces before adding other, less important accents — and keep in mind the furniture or accessories that will be shipping from your previous home. Small homes can fill quickly, and you don't want to feel cramped in a house that will likely be smaller than what you are used to. To accessorize, think indoor palm plants, vases filled with real or artificial orchids, wall tapestries of orchids or palm leaves, authentic Hawaiian art and photographs or prints of Hawaiian heritage and culture.
You will likely be moving to a different climate than you are used to. Hawaii has a temperate, tropical climate; the temperature typically varies from 66 to 88 degrees, and rarely falls below 61 or rises above 91 degrees throughout the year. If you are moving from a northern state like Minnesota and are accustomed to heavy rugs and draperies in your home, consider leaving them behind — you won't need them in your new destination. Flooring in Hawaii tends to be easy-care, wooden surfaces.
Also, lighter colors are popular in indoor decor because of the tropical climate. Keep that in mind when shopping for curtains, furniture and bed covers. Lighter colors will not only make rooms feel cooler in summer, they will also make small spaces feel more spacious.
Using plants in your decor
To enhance your furniture and indoor spaces, consider a trip to one or two of the abundant nurseries you will find in Hawaii. Most specialize in the wonderful tropical plants that are found locally, and they are an inexpensive way to add color and allure to your home.
In Hawaii, natural colors are everywhere. Emerald green and gold cover the landscape while the ocean provides shimmering azure waters. In 2000, the state of Hawaii gave each island its own official color. In most cases, that color matches the hue of the island's official flower used to make leis. A simple drive through neighborhoods will reveal explosions of colors in yards, parks and boulevards.
Live plants are a great way to bring some of this natural island beauty into your home. Yellow is the official color of Oahu, and that is reflected in the official state flower, the yellow hibiscus, and Oahu's flower, the yellow ilima, a popular choice in leis.
RENTING VERSUS BUYING
Though many military personnel in Hawaii choose to live in base housing, residing off base — either by renting or buying a home — can be a challenging yet rewarding experience. Purchasing a home entails a long-term financial and emotional commitment with various pluses and minuses. Renting, on the other hand, makes moving easier and someone else maintains the property. Either way, housing costs in Hawaii can be higher than most military communities because of limited options. However, your Basic Allowance for Housing will reflect the higher housing costs in Hawaii accordingly.
Before determining your best option, account for all of your needs, review your financial situation and research your options thoroughly.
Finding an apartment
Looking for local apartments online can save time and energy. Websites such as www.craiglist.org and www.zillow.com specifically tout their housing listings, but chamber of commerce membership directories, local newspaper classifieds, and even referrals from family or friends can be good resources for housing leads. The Handbook for the Hawaii Residential Landlord-Tenant Code, published by the State Department of Commerce and Consumer Affairs, is another excellent resource for renters and can be found at https://cca.hawaii.gov/hfic/files/2013/03/landlord-tenant-handbook.pdf.
Be prepared when you meet with the leasing agent, property manager or owner. Bring a list of what you are looking for in a rental; it is important to be clear about your needs and to get all of your questions answered. You will also need to provide information and verification about your job, your income and your past rental history.
Before you decide to rent, inspect the apartment with the landlord. Look for the following problems:
• Cracks, holes or damage in the floor, walls or ceiling.
• Signs of leaking water, leaky fixtures or water damage.
• Any signs of mold or pests.
• Lack of hot water.
• Inadequate heating or air conditioning.
Use a written checklist with the landlord to document the condition of the rental before you move in, and keep a copy of the completed checklist to use when you move out.
Buying a home
Buying a home is a complex process and requires a thorough education on the part of the buyer. First, fully understand your financial position — credit score, available savings, monthly income and expenditures. Subtracting your expenditures from your income, for instance, will yield the amount you can afford for housing.
Be sure to account for all insurance costs associated with owning a home, possible homeowner association fees and property taxes in your monthly expenditures. Overall, loan rules changed in 2015, but according to www.ginniemae.gov (Government National Mortgage Association) and www.homebuyinginstitute.com (the Home Buying Institute) loan programs continue to vary on the percentage of your income that can be used for housing-related expenses. Lenders balance debt against income to decide if an applicant will be able to repay a loan. Most conventional loans require borrowers to have no more than 43 percent total monthly debt versus their total monthly income, though there are exceptions, such as for those with significant savings. The Federal Housing Administration has a two-tier qualifying system: FHA sets its top thresholds at 31 percent front-end debt (housing expenses as a percentage of income) and 43 percent back-end debt (all debt as a percentage of income) for a 31/43 qualifying ratio. Like commercial lenders, Veterans Affairs combines front-end and back-end debt for a 41 percent limit against income.
A preapproved loan before starting your search for a home can determine your spending limits and signal any potential issues in the way of receiving a loan. For any home loan application, the mortgage company will order a credit report, so it may be good to get a free report in advance to determine your credit status and make sure the report contains no erroneous information.
There are three ways to order your free annual report from one or all of the national consumer reporting companies: Visit www.annualcreditreport.com and complete and submit the request form online; call toll free 877-322-8228; or download and complete the Annual Credit Report Request Form and mail it to: Annual Credit Report Request Service, P.O. Box 105281, Atlanta, GA 30348-5281. For more information, visit www.consumer.ftc.gov/topics/credit-and-loans.
Kids, School & Education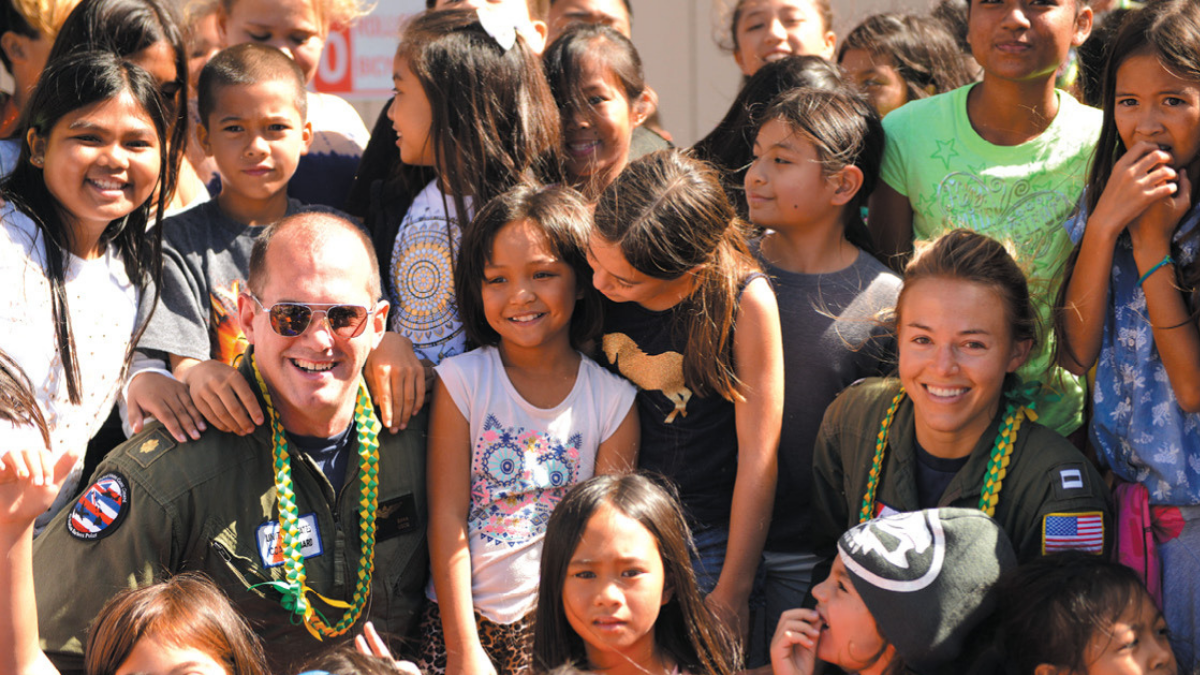 There are about 14,000 dependents of military members attending public schools in Hawaii. All children between 5 (as of July 31) and 18 years of age must attend school, and kindergarten is mandatory in Hawaii.
State law requires all students to meet health examination and immunization requirements before they may attend any public or private school in the state.
School Liaison Officers and Offices
Each branch of service provides military members on Oahu School Liaison Officers to be advocates for military families and to serve as the link between the military communities and Hawaii Public Schools. For assistance, contact your school liaison officer.
Air Force 808-422-3771
Army 808-655-8326
Coast Guard 808-842-2089
Marine Corps 808-257-2019
Navy 808-422-3770
National Guard 808-844-6049
HAWAII DEPARTMENT OF EDUCATION, PUBLIC SCHOOLS
The Hawaii Department of Education has a FAQ page to address questions military families may have at www.hawaiipublicschools.org/ParentsAndStudents/MilitaryFamilies/Pages/FAQs-for-military-families.aspx.
Understanding alignment of attendance: There is one statewide school district in Hawaii. The schools are grouped into Complex Areas: one high school, multiple elementary schools and one or two intermediate/middle schools. To view the schools in each complex, visit www.hawaiipublicschools.org/ParentsAndStudents/EnrollingInSchool/SchoolFinder/Pages/Oahu-Map.aspx.
District Offices: Once you have found a place to live on Oahu, contact your branch school liaison to find out which school your child will attend.
Geographic Exception: If you know where you will be living but are still in temporary quarters, you may request a geographic exception. Contact your branch school liaison for detailed information. More information is available at http://www.hawaiipublicschools.org/ParentsAndStudents/EnrollingInSchool/Pages/Geographic-exceptions.aspx.
All public schools, except charter schools and multi-track public schools, require a school year of 180 instructional days, which includes 915 student instructional hours for elementary school grades and 990 for secondary school grades.
CHARTER SCHOOLS
Charter schools are public schools operating independently from the Department of Education and provide an alternative to regular public schools. Twelve of Hawaii's 34 charter schools are on Oahu. To learn more, visit www.chartercommission.hawaii.gov.
PRIVATE AND RELIGIOUS SCHOOLS
Hawaii has at least 150 private schools with nearly 100 on Oahu. Tuition at these institutes ranges from about $3,000 to $20,000 for day students. Many of the schools have waiting lists and require entrance tests and interviews before admission. For information on private school, go to www.hais.org.
• Hawaii Catholic Schools:www.hawaiicatholicschools.net
• K12 Academics: www.k12.com/hta
• Private School Review:www.privateschoolreview.com
HOME SCHOOLING IN HAWAII
Hawaii Board of Education regulations include Compulsory Attendance Exceptions recognizing home schooling as a viable and legitimate alternative for child education. This regulation allows parents to home-school their children by officially informing the Department of Education with a notice of intent using Hawaii's Compulsory Education Form 4140 or a letter containing the child's name and birthdate, residential address, point-of-contact phone number, grade level and parental signature. For more information, visit www.hawaiipublicschools.org/ParentsAndStudents/EnrollingInSchoolChoosingaschool/Pages/Homeschooling-FAQs.aspx.
Basic home schooling requirements include: narrative progress report and report card, and testing for students in grades three, five, eight and 10.
Home-schooled children may participate in the statewide testing program at the local public school, or parents may arrange for private testing at their own expense.
Parents who home-school their children are responsible for their children's total educational program including athletics and extracurricular activities. An annual progress report, showing satisfactory progress in all content areas, shall be submitted at the end of each school year. For more information, visit www.hawaiipublicschools.org/teachingandlearning.
Home Schooling and High School: Homeschooled students do not receive a high school diploma. Instead, home-schooled students can earn a high school diploma from one of the state's Community School for Adults by achieving satisfactory scores on the General Educational Development tests. The diploma reflects high school equivalency through the state Adult Education Program. Call the high school in your residential area or your branch school liaison for details.
Home Schooling Resources
• Hawaii Home School Association:www.hawaiihomeschoolassociation.org
• Home School Legal Defense Association:www.hslda.org/hs/state/HI
REGISTRATION REQUIREMENTS
To enroll parents will need:
• Birth Certificate: An original or certified copy is required.
• Physical Examination: Medical records documenting that a licensed physician has examined the child within one year of school entry date. Or provide an appointment card/date if you could not get an appointment for a physical examination.
• Tuberculosis Clearance: The examination must include a negative Tuberculin Skin Test with the result indicating the millimeter reading (which must be performed by a licensed U.S. physician) and must have been obtained within one year of school entry date.
• Immunizations: All immunizations must meet the minimum age and interval dose. For a complete list, visit http://health.hawaii.gov/docd/vaccines-immunizations/school-health-requirements.
• Transcripts and Documents: A release from the last school attended, which includes an unofficial transcript or latest report card as well as Individualized Education Programs for students with special needs. Most schools do not release official permanent student records until requested by the new school. Parents or guardians are advised to hand-carry copies of report cards, promotion certificates and other materials that will be helpful in enrolling their children.
• Proof of Residence: You will need a rental agreement/military housing documentation/mortgage or a copy of a utility bill (water, electric, gas or telephone). Documents must have the parents' or guardian's name(s).
• Legal documents: Power of attorney and/or court documents if not living with parents.
For more information, go to http://www.hawaiipublicschools.org/
School Calendars
All public schools, except charter and multi-track schools, follow a single school calendar. School starts early in Hawaii, usually the last week of July or the first week of August. See the school year calendar by visiting www.hawaiipublicschools.org and clicking on "School Calendar" at the top of the page.
School Transportation
School bus service in Hawaii requires payment. Families who use the bus for transportation can choose from three options for payment: an annual payment plan, a quarterly plan and a one-way bus coupon. For more information, visit https://iportal.k12.hi.us/SBT.
City Bus: The city-operated transit system, called TheBus, is available to students, up to age 19 with a valid high school ID, at a reduced rate. Monthly and annual passes are available. Visit www.thebus.org/Fare/youthFare.asp for more information.
COMMUNITY PROGRAMS
DOE Family Support Services and Parent-Community Networking Centers
The Parent-Community Networking Centers are school-based centers for families, volunteers and communities to identify their strengths, collaborate, make decisions and create partnerships as a part of the Comprehensive Student Support System. Contact your school for more information.
Learning Centers: Hawaii Learning Centers offer high school students who have special interests and talents creative and innovative educational opportunities and choices. For more information, visit www.hawaiipublicschools.org/TeachingAndLearning/SpecializedPrograms/LearningCenters/Pages/home.aspx
.
Electronic Schools: E-School can be accessed on the internet and offers students the opportunity to earn high school credits through the use of multimedia technologies. E-School also provides incoming students with an opportunity to learn more about Hawaii's history before their arrival in Oahu. For more information, visit http://www.hawaiipublicschools.org/TeachingAndLearning/EducationInnovation/OnlineLearningTools/Pages/home.aspx.
Joint Venture Education Forum: The JVEF is a cooperative venture between the military community and Hawaii Department of Education to improve educational opportunities for military dependents in public school system. It is composed of public school educators and leaders from military commands, government, community and business.
HE'E Hui for Excellence in Education: HE'E seeks to be the focal point for community and parent engagement while serving as a public resource for educational policy. Visit www.heecoalition.org for more information.
Hawaii Board of Education Step Up Hawaii: Step Up! is a community-wide campaign that promotes college and career readiness for Hawaii's high school students. Visit www.stepuphawaii.org, call 808-586-3349 or email BOE_hawaii@notes.k12.hi.us for more information.
Hawaii School Guide: The overall vision of HSG is for the education opportunities available to Hawaii residents to be transparent and accessible and to help parents make the best possible education choices for their children. Visit www.hawaiischoolguide.com for more information.
Hawaii P-20 Partnership for Education: P-20 aims to improve the quality and equity of Hawaii's educational pipeline from early childhood through postsecondary education and to prepare a highly skilled workforce for Hawaii industry. Visit www.p20Hawaii.org for more information.
Federal Survey Cards and Impact Aid: Since 1950, the federal government has been paying a share of the cost of educating each child who lives on or whose parent or legal guardian is employed on federal property. These funds, authorized under the Public Law 103-382, provide only a partial reimbursement to the state and school districts affected by federal activity for local tax losses resulting from tax-free federal installations. The amount received is solely based on the number of federally connected students who return their survey cards, which are given out annually in September. All branches of the service strongly encourage military members to complete these cards as these funds are critical to the schools and our children.
Tutor.com: Tutors are online 24/7 and eligible military Families in the Air Force, Army, Marine Corps and Navy can take advantage of this military family program to get help with more than 40 subjects. Visit http://military.tutor.com for more information.
Other Education Links
• Accountability Research Center Hawaii:http://arch.k12.hi.us
• Hawaii State Legislature:www.capitol.hawaii.gov
• Hawaii Parent Teacher Student Association: www.hawaiistatePTSA.org
HIGHER EDUCATION
Education opportunities are abundant on and off base. A trip to your installation education office will show you the numerous options. The following schools offer such programs:
University of Hawaii System: UH was established in 1907 and is fully accredited by the Western Association of Schools and Colleges. The University of Hawaii is the state's sole public system of higher education. The UH System provides undergraduate, graduate and professional degrees and community programs on 10 campuses and through educational, training and research centers across the state. UH enrolls nearly 60,000 students from Hawaii, the U.S. mainland and around the world. For more information, visit www.hawaii.edu.
UH Campuses
UH Manoa: The largest and oldest UH campus is in a residential valley above Waikiki. Manoa offers undergraduate, graduate and professional degrees; a strong, vital research program; and nationally ranked NCAA Division I athletics.
UH Hilo: The Big Island of Hawaii is a living laboratory of active volcanoes, deep oceans, the world's best telescopes and a
rich cultural landscape. UH Hilo's bachelor's and master's degree programs take advantage of it all.
UH West Oahu: With the lowest university tuition in Hawaii, this four-year institution offers high-quality education, personalized attention and classes during the day, evening, weekends and online.
UH Maui College: A tri-island college, Maui provides comprehensive opportunities, special programs and three bachelor's degrees on Maui. It operates the UH Center on Maui, education centers in Hana and on Lanai and Molokai, and a pioneering television network that reaches rural areas.
Hawaii Community College: Located in Hilo and administering Kona's UH Center at West Hawaii, this Hawaii Island community college offers more than 25 associate degree, certificate and noncredit programs ranging from health services and hotel operations to business and trades.
Honolulu Community College: Near downtown Honolulu with additional facilities for aeronautic, marine, automotive and heavy equipment programs, this innovative community college offers a strong liberal arts curriculum in addition to a wide range of vocational and technological programs.
Kapiolani Community College: On the slopes of Diamond Head, just minutes from Waikiki, UH's largest community college started the Culinary Institute of the Pacific, promotes an international focus and provides programs in business, hospitality, health, legal education, and arts and sciences.
Kauai Community College: A primary resource center and gathering place for the island's residents and visitors, this community college in Lihue offers business, hospitality, health, early childhood education and liberal arts courses, and administers the UH Center on Kauai.
Leeward Community College: This community college overlooking Pearl Harbor provides comprehensive opportunities from professional studies to liberal arts. Community outreach includes cultural activities on the main campus and an education center serving Waianae.
Windward Community College: At the base of Oahu's Ko'olau Mountains in Kaneohe, this supportive community college specializes in creative arts, environmental sciences and Hawaiian studies. It is home to the Office of University Partners, offering bachelor's degree programs with classes on the Windward campus through partnerships with baccalaureate institutions.
The Shidler College of Business at the University of Hawaii at Manoa: This professional college offers over 20 business degree programs designed for full-time and part-time students. Undergraduate majors include accounting, entrepreneurship, finance, human resource management, international business, management and management information systems. This college also offers a part-time MBA, full-time MBA, Master of Accounting, Master of Human Resource Management and various dual master's degrees in nursing, financial engineering and civil engineering.
This college is renowned for its expertise in international management education and is consistently ranked among the best international business programs in the nation by U.S. News and is accredited by AACSB International.
For more information, visit www.shidler.hawaii.edu.
Hawaii Pacific University: HPU is the largest private university in the state of Hawaii, with campuses in downtown Honolulu and Kaneohe and Education Centers at Joint Base Pearl Harbor-Hickam, Schofield Barracks, Tripler Army Medical Center, Fort Shafter, MCBH Kaneohe Bay and MCBH Camp Smith. HPU also has online programs and flexible course schedules to improve access to educational programs for military service members and their families, veterans and U.S. government civilian personnel. HPU is a participant in the Post 9/11 GI Bill's Yellow Ribbon Program. More information at www.hpu.edu/military-and-veterans/index.html.
Wayland Baptist University: Offers both bachelor's degrees and vocational education programs.
Central Michigan University: Master's degree in administration is offered.
University of Oklahoma: Offers fully accredited, in-residence master's degree programs at Joint Base Pearl Harbor-Hickam.
Chaminade University of Honolulu: Associate and bachelor's degrees.
For more information, contact your Installation Education Office or call 808-449-7110.
Installation Education Offices
Hickam 808-543-8053
Schofield Barracks 808-687-7093
Tripler Army Medical Center 808-544-1493
MCBH Kaneohe Bay 808-544-9313
Camp Smith 808-544-9318
Pearl Harbor 808-687-7081
Hawaii State Department of Education JROTC Program Information
Air Force
Aiea High School (Oahu) 808-483-7324
Kailua High School (Oahu) 808-266-7917
Kaiser High School (Oahu) 808-394-1200
Moanalua High School (Oahu) 808-831-7904
Army
Baldwin High School (Maui) 808-984-5656
Farrington High School (Oahu) 808-832-3585
Hilo High School(Hawaii) 808-974-4021, ext. 2263
Kahuku High School (Oahu) 808-293-8910
Kaimuki High School (Oahu) 808-733-4912
Kapaa High School(Kauai) 808-821-4401, ext. 195
Kealakehe High School(Hawaii) 808-327-4300
Konawaena High School(Hawaii) 808-325-4525
Leilehua High School (Oahu) 808-305-3000
McKinley High School (Oahu) 808-594-0400
Mililani High School (Oahu) 808-627-4171
Nanakuli High School (Oahu) 808-668-5823
Punahou School (Oahu) 808-944-5723
Roosevelt High School (Oahu) 808-531-9520
Saint Louis School (Oahu) 808-739-7777
Waianae High School (Oahu) 808-697-9592
Waimea High School (Kauai) 808-338-6810
Waipahu High School (Oahu) 808-528-9506
Marine Corps
Kapolei High School (Oahu) 808-692-8200
Navy
Campbell High School (Oahu) 808-689-3083
Kalaheo High School (Oahu) 808-254-7918
Radford High School (Oahu) 808-421-4214
Pets, Vets & Things

PETS ARE A LIFETIME COMMITMENT
The Humane Society of the United States estimates that of the 6 million to 8 million dogs and cats taken into companion animal shelters across the country, half are euthanized for health ailments, behavior issues or lack of space. Fortunately, in Hawaii there are resources in place to ensure quality pet care. Oahu offers many low-cost training classes and veterinarian care for your forever pet.
The Army and Marines employ animal control officers who enforce pet policies in base housing and help reunite lost animals. All bases have veterinarian clinics providing preventive care.
Check with your military housing office to find out about pet-friendly events, such as the Army's yearly Dog Days of Summer.
Military organizations also partner with animal nonprofits. One organization working with the Marine Corps and Army Wounded Warriors is Hawaii Fi-Do, a service dog organization. Therapy and service dogs visit the barracks regularly, providing training for the dogs and comfort for the injured service members. For more information, call 808-638-0200 or visit www.hawaiifido.org.
Tripler's Human Animal Bond Program offers patients, families and staff a unique therapy with the help of several special pets. The program is sponsored by the American Red Cross. The HAB Program uses dogs, cats and rabbits to help patients recovering from physical or mental illness. Volunteers bring dogs to wards, clinics and waiting areas for visits. All dogs are screened by Veterinary Services and must pass strict behavioral and physical qualifications. All handlers also receive special training. For more information, call 808-433-6631.
Hawaiian Humane Society
The nonprofit Hawaiian Humane Society is Oahu's only open-admission shelter that welcomes all animals and is the official partner of the Honolulu Police Department in enforcing animal-related laws. Call 808-356-2200 to receive a copy of its guidebook on local laws, including information on mandatory pet identification requirements, anti-abandonment and driving with animals. The society maintains Oahu's official database of microchips; all pet owners new to Oahu must register with the organization to ensure lost pets get reunited with owners. Visit www.hawaiianhumane.org to learn more about programs and services, including an adoption center, volunteer programs, lost and found services, pet ID programs and events. Email info@hawaiianhumane.org for more information.
Pet Information for Deploying Service Members
The Pets of Patriots Program places pets in caring homes while their owners are deployed. If you are an active-duty service member seeking foster care for your animal while deployed, or if you are interested in becoming a foster volunteer, call the Hawaiian Humane Society Outreach coordinator at 808-356-2217.
Military Veterinarian Clinics
The U.S. Army Veterinary Corps operates four veterinary medical facilities on Oahu that provide services for pets owned by those enrolled in DEERS.
Fort Shafter
Building 435 808-438-5231/5233
Schofield Barracks
Building 936 808-655-5889/5893
Pearl-Hickam Joint Base
Building 1864 808-449-6481
Marine Corps Base Hawaii
Building 455 808-257-3643
Pets are seen by appointment. Most sites offer appointments Monday through Friday, with occasional evening and weekend availability.
Services include routine sick-call appointments and well-patient exams with a focus on prevention-medicine and wellness services such as vaccination, fecal testing, heartworm and infectious disease screening, health certificates and microchipping. Most facilities offer laboratory testing and radiology services.
Some facilities offer routine surgical (spay, neuter, mass removal) and dental services on a space-available basis.
All services and products charge the pet owner fees that are due when services are provided. Fees are generally significantly lower than those charged by civilian veterinary practices.
Because of limited services and the lack of emergency services, it is recommended that all pet owners establish civilian veterinary care.
Military Breed Bans
All pit bulls and pit bull mixes are banned from military housing. Other breeds are dependent on service. Contact your base housing office to find out what other breeds are prohibited should you decide to live in military housing.
Military Dog Parks
Many of the military base housing services have dog parks. Call your housing office for more information.
Hawaii Military Pets
Through this online resource, find pet transport information, boarding services and Hawaii military pet policies. This project is an interactive way for service members to talk about what resources they need for their family pet. This is also a forum to solicit feedback on issues such as military breed bans, feral cat issues on base, foster and adoption programs for deploying troops as well as overall military pet policies. Visit www.facebook.com/HawaiiMilitaryPets for more information.
Family and MWR Pet Facility
Military pet owners can provide their pets with accommodations at the Family and MWR Pet Kennel. It fulfills a need for a place for military members to house their dogs and cats during PCS ins and outs, TDYs and emergencies.
The outdoor facility contains covered dog kennels, cat kennels, grassy lawns, and large exercise and play areas. The post veterinary staff inspects the facility on a quarterly basis for cleanliness, grounds maintenance and general animal care.
The costs at the Family and MWR Pet Kennel are much lower than civilian facilities. The kennel facility is open to all services, including retirees and DOD civilians. Eligibility and priority for boarding animals are: deploying personnel, PCS personnel housed in transient quarters or guest housing, personnel on emergency leave, temporary duty personnel, regular or military leave personnel, Department of Army personnel and all other branches of service personnel.
Call 808-368-3456 for more information.
Island Pet Movers
Island Pet Movers takes over the process of moving your pets to Hawaii from the day you call. The company is locally owned and operated in Honolulu, and it is an expert at relocating pets to and from Hawaii. As a veteran-owned business with firsthand knowledge of the PCS process, Island Pet Movers has a strong connection with its military members. The company works directly with your vet clinic on the mainland or overseas to be sure that everything is taken care of. Discounts are available for military members. Visit www.islandpetmovers.com or call 808-783-8419.
Hawaii's Animal Quarantine Laws
Hawaii is a rabies-free state. Hawaii's quarantine law is designed to protect residents and pets from potentially serious health problems associated with rabies. Success of the quarantine program depends on maintaining isolation of your pet from other animals for the required quarantine period. For more information, go to www.hdoa.hawaii.gov/ai/aqs/animal-quarantine-information-page.
Hazards for pets in Hawaii
Hawaii's lush and varied landscape is home to many plant and animal species, some which may be unfamiliar to those who have only lived on the mainland. The following information, which explains dangers your pet may encounter, is courtesy VCA Family & Oahu Veterinary Specialty Center.
Bufo or Cane toad
What to do if your dog encounters a Bufo or Cane toad: Move your dog a safe distance from the toad. Wash your pet's mouth, nose and eyes with water. Take care not to force water down your dog's throat, which may result in water getting into its lungs. Seek emergency veterinary care immediately. Toad poisoning can result in death in 30 minutes or less. Try to prevent toads in your yard by eliminating food and water sources. The toad may be attracted to your dog's water bowl and can leave poison in it. Spray your yard for bugs. Do not leave out dog food or other food that will attract the toads. Clean underneath shrubs to reduce hiding places. Bufo toads are attracted to light at night, so when walking your dog use on a leash at night and use a flashlight to scan the ground. Be more vigilant during the rainy season when the Bufo toads are drawn out more during the day. When disposing of a Bufo toad, protect your skin and eyes. The toxins are dangerous for humans as well.
Symptoms of toad poisoning: Symptoms include drooling or foaming at the mouth, difficulty breathing, seizures, pawing at the face (the toxins are a severe irritant to skin and membranes), crying and unsteady movement.
Wild pigs
The likelihood of encounters with feral pigs is relatively low on most of Hawaii's trails. However, in more remote areas or if you go off trail (not recommended for anyone unfamiliar with island terrain), the possibility is higher. Pigs have good hearing and sense of smell and prefer to avoid human contact. If you come upon a sow with piglets, keep your distance or even retreat until they have left the trail. Feral pigs have sharp tusks and will attack if cornered or threatened.
Centipedes
Centipedes can bite and are poisonous. The poison from their fangs, located behind the head, is used to kill insects, which are their primary food. To a human or pet, a bite feels similar to a bee sting and can be dangerous, especially if there is an allergic reaction. There isn't always a reaction to a centipede bite, but it is painful for pets.
Bee stings
Like people, some dogs can have an allergic reaction to bee stings, especially if stung by multiple bees. Take your pet to a veterinarian immediately if they have swelling, hives, difficulty breathing or other symptoms.
Heartworm
Heartworm disease is transmitted by mosquitoes. Due to the tropical climate, Hawaii has mosquitoes year-round. Pets become infected with the worm when they are bitten by a mosquito. Even dogs that stay indoors are susceptible to becoming infected with heartworms in Hawaii. Heartworms are a serious disease that primarily affects the heart and lungs but can also affect the liver, kidney, eyes and central nervous system; if left untreated, it can cause death. Fortunately, effective preventatives are available. Have your pet tested yearly for heartworms, and keep them on monthly heartworm preventative.
Metaldehyde (snail and slug bait)
Snail and slug bait represent a major risk for dogs and cats and are a more common source of poisoning than you may expect. Snail and slug bait products typically contain the pesticide metaldehyde and may taste sweet to pets. Symptoms of metaldehyde poisoning include tremors, drooling and restlessness, proceeding to seizures and death within hours to days. Have your dog or cat examined by a veterinarian as soon as possible if you suspect poisoning.
Ticks
Although tick-borne diseases are not common in Hawaii, tick paralysis is still a possibility, which is why avoiding ticks and tick bites in particular is a good idea. The biggest problem is when a tick is brought into your home via a pet or even on you. If the tick lays eggs in cracks or crevices inside your home, you could wind up with a tick infestation.
Tips to reduce tick incidents:
• Keep grass mowed and try to avoid heavy landscaping where ticks are most likely to hide and wait for a host.
• Wear light-colored clothing when in an area known to have ticks. If one latches onto you, you will be able to see it better.
• Always check your pet, your clothing and body for ticks after being in a tick-infested area (tall grass, woods, etc.).
• Keep your pets up to date on their veterinarian-approved flea and tick treatments.
Leptospirosis
Many of Hawaii's freshwater ponds contain dangerous bacteria called leptospira. Leptospirosis is a bacterial disease that is primarily carried by rats and mice, although dogs, pigs, cattle and horses can also become infected.
To reduce the risk of contracting leptospirosis:
• Heed leptospirosis warning signs posted at freshwater spots throughout the island where known exposures occur.
• Do not swim, wade or play in fresh water or mud, especially when you have cuts or abrasions.
• When swimming in fresh water, do not place your head underwater.
• Do not drink stream water without boiling or chemically treating it first.
• Keep water-catchment collection areas free from overhanging branches and prevent access to these by animals.
• Drain potentially contaminated areas of standing water.
• Control rats, mice and mongooses around the home and at work sites.
• Vaccinate pets.
Toxic plants, trees and flowers that may harm dogs
Unless noted, all parts of the plants are harmful): Allamanda vine, angel's trumpet, Anthurium, apple seeds (in large amounts), apricot seeds, avocado leaves, Azalea – rhododendron species (This popular plant can harm a dog's cardiovascular system and trigger vomiting or gastrointestinal upset), bee-still tree, black-eyed Susan – Abrus precatorius (rosary pea/bead vine and seeds), bird of paradise – Strelizia regirae (fruits and seeds), Caladium, candlenut tree – kukui (especially sap), cassava – tapioca (leaves and roots), castor bean – Ricinus communis (pa'aila and kamakou), cestrum ('ala'aumoe berries), Chinaberry (also known as 'inia – fruit), crown flower (pua kalaunu), crown of thorns, cup of gold and silver cup, daffodil (narcissus bulbs), dumbcane (dieffenbachia), elephant ear ('ape), foxglove (leaves, seeds, juice and flowers), gloriosa lily (especially roots), Hawaiian poppy (pua kala), hens-and-chicks (lantana), hydrangea (especially leaves and buds), ivy (many varieties – leaves and berries), Jerusalem cherry, jimson weed (also known as Datura stramonium, thorn apple and kikania haole), kava ('awa), lilies (such as those popular at Easter; this plant can cause heart failure, coordination problems and vomiting.), mushrooms, nightshade (also called deadly nightshade, popolo, apple of Sodom, Jerusalem cherry and cockroach berry), oleander (all varieties including be-still tree – all parts are extremely toxic; this popular outdoor plant contains cardiac glycosides that harm the heart, decrease body temperature, cause abnormal pulse rate and can cause death. Beware: People have died from simply eating hot dogs roasted on an oleander twig), pencil plant sap, periwinkle (vinca), plumeria (pua melia, or frangipani), philodendron (all varieties, small to monster), poinsettia (leaves and flowers – irritating to the mouth and stomach and can cause vomiting), pokeberry (and coral berry), pothos (Scindapsus aureus), red sage (Lantana camara – especially leaves and unripe berries), rhododendron, rhubarb (leaves – although the stalks are used to make pies, the leaves pack the potential to cause kidney damage), slipper flower (especially sap), star of Bethlehem (pua hoku), ti (Cordyline terminalis, also known as the Hawaiian ti, ti tree, good luck tree, green ti, red ti and occasionally giant dracecaena), taro (when raw), tulip (bulbs), umbrella plant (Cyperus alternifolius), wisteria (seeds, pods), yew (needles, bark and seeds – extremely toxic to dogs, this group of ornamental plants can cause seizures or cardiac failure; the plant and red berries are toxic).
Your POV & Driving in Hawaii

Your POV & Driving in Hawaii
Your privately owned vehicle will be shipped to Sand Island, Honolulu. Call the Joint Personal Property Shipping Office at the Fleet and Industrial Supply Center complex to check the status of your vehicle, or track it at www.pcsmypov.com. The number for inbound POVs is 808-848-8383.
Registering Your Vehicle in Hawaii
All automobiles used on the highway must be registered with the state of Hawaii within 10 days of arrival. If you are not a legal resident of Hawaii, you may keep your original vehicle license plates, but you must register your car to get a Hawaii vehicle permit sticker. To complete vehicle registration, you are required to have proof of ownership or certificate of registration; shipping documents; and Hawaii no-fault insurance coverage. Additionally, Hawaii requires an annual safety inspection for all vehicles; valid identification card; and Non-resident Certificate, Form CS-L (MVR) 50.
For more information, visit www.honolulu.gov/csd.
Driver's License Registration and Identification
Driver's licenses issued by your home state are generally valid in Hawaii until they expire. If you wish to apply for a Hawaii driver's license, you must present your Social Security card and current out-of-state license. Your original license will not be returned. You must be
16 years old to obtain a driver's license in Hawaii. Drivers 18 and older, with a valid license from another state or Canada, may drive in Hawaii until their license expires or is declared invalid. In 2009, Hawaii added legislation banning the use of electronic devices while driving.
When applying for a Hawaii driver's license:
• The vehicle you drive must have current license plates, registration and safety check.
• The Hawaii motor vehicle insurance card must be current and valid. The name of the insured must be the same as the registered owner of the vehicle.
• You should have all personal documents when reporting for a driver's license. In addition to presenting a Social Security card, you must present a birth certificate or certificate of citizenship or naturalization.
• Those receiving treatment for alcohol or substance abuse are required to have medical clearance to receive a driver's license.
• Oral examination provisions may be available for those who are unable to read, write or understand English.
• An instruction permit must be attained before applying for a road test.
• Those ages 15 to 17 must hold an instruction permit for no fewer than 90 days.
For more information, visit www.honolulu.gov/csd/dllicense.html.
Insuring Your Vehicle in Hawaii
Out-of-state auto insurance policies are not valid to register your vehicle in Hawaii. When you register your vehicle, you need to show proof of auto insurance by presenting a Hawaii vehicle identification card, which should be kept in the vehicle at all times.
Once you have purchased a Hawaii auto insurance policy, you can register your vehicle with the state of Hawaii, which must be done within 10 days of arrival.
Safe Driving in Hawaii
Driving in Hawaii is a little different. Use the following safe driving tips to help keep you and your family safe on the road:
• Local residents do not use north, south, east and west when giving driving directions. They will tell you to head mauka (toward the mountain) or makai (toward the ocean) or to go in the Diamond Head (east) or Ewa (west) direction.
• Landmarks are often driving markers instead of names of streets. Pay attention to stores and intersections around you because you may be told to turn right at Wal-Mart or to turn at Anna Miller's near Pearlridge Center.
• Familiarize yourself with the names of the exit streets on freeway markers rather than the number of the exit. Most people do not know the freeway exit number to their home.
• Merging on freeway on-ramps can be dangerous in Hawaii. Many Honolulu on-ramps are located near the next off-ramp so be careful when merging in and out of freeway lanes near the exits.
• Drive with the "aloha spirit." Be courteous toward fellow drivers and always drive defensively.
• "Shaka" is considered a courtesy sign when merging in traffic.
MOTORCYCLE SAFETY
Under Hawaii DMV guidelines, motorcycle operators in Hawaii must have a Class 2 motorcycle license or motorcycle instruction permit.
See the Hawaii Department of Transportation Motorcycle Operator Manual at www.hidot.hawaii.gov/highways/files/2016/05/3-21-16-Dft-Rider-Manual.pdf.
In addition to Hawaii laws, military bases also have requirements for motorcycle and moped operators and riders. The requirements differ slightly among services.
All services require every operator of a motorcycle to complete the Motorcycle Safety Foundation's Basic Rider Course or other training approved by their service's safety center. This training applies to riders whether or not they ride on or off base or on or off duty.
Safety Course
To attend a motorcycle safety course at Marine Corps Base Hawaii (Kaneohe Bay), call 808-257-1830. Call 808-474-3447, ext. 233 to attend at Ford Island. Call 808-655-6455 to attend at Wheeler Army Air Field.
Motorcycle and moped requirements (for all riders entering military installations) include:
• Helmet: Must be Department of Transportation-approved safety helmet securely fastened with a chin strap.
• Eye Protection: Eyes must be protected by shatter-resistant goggles or a face shield attached to the helmet. A windshield, eyeglasses or fairing alone is not considered proper eye protection.
• Shoes: Must wear closed-toe, over-the-ankle shoes with hard soles. Sandals, slippers, tennis shoes and other similar footwear are not authorized.
• Reflective Vest: During daylight hours, riders must wear a brightly colored, outer upper garment or high-visibility reflective vest. During hours of darkness, riders must wear a high-visibility reflective vest of bright orange, lime green or yellow with reflective striping. Do not cover or conceal the vest while riding a motorcycle or moped. Military personnel may wear the vest over the uniform of the day. Joint Base Pearl Harbor-Hickam requires a vest both day and night.
• Attire: Must wear long trousers, long-sleeve shirt or jacket and full-fingered gloves. Riding apparel designed specifically for motorcycle riders is strongly encouraged.
About the Islands

STATE FACTS
Hawaii became the 50th U.S. state on Aug. 21, 1959. The archipelagic state is in the North Pacific Ocean, 2,300 miles from the mainland. In the 19th century, Hawaii was also known as the Sandwich Islands.
The Hawaiian Archipelago comprises eight islands and atolls extending across 1,500 miles. Of these, eight high islands are considered the main islands and lie at the southeastern end of the archipelago. These islands are, from the northwest to southeast, Niihau, Kauai, Oahu, Molokai, Lanai, Kahoolawe, Maui and Hawaii. The last is by far the largest and is often called the Big Island to avoid confusion with the state name.
Military Impact in Hawaii
Direct and indirect impacts of military expenditures are reported to generate $14.7 billion into Hawaii's economy, creating more than 102,000 jobs for residents that collectively report household incomes around $8.7 billion.
Military expenditures totaling $8.8 billion annually have elevated the defense industry.Military procurement contracts amount to about $2.3 billion annually, making the military a prime source of contracting opportunities for hundreds of Hawaii's small businesses.
• Hawaii attracts increased activity in research and development projects and the presence of the nation's top prime defense contractors: Boeing, Lockheed Martin, Northrop Grumman, BAE Systems, General Dynamics, Raytheon and others.
• Many of Hawaii's fledgling high-tech businesses receive federal grants through DOD programs such as those awarded by the Office of Naval Research and the Defense Advanced Research Projects Agency and mentor-protégé programs administered by prime defense contractors.
• The Pearl Harbor Naval Shipyard is Hawaii's largest industrial plant, employing more than 4,600 engineers and skilled technicians to service naval surface ships and submarines based in Hawaii and respond to emergency repair calls throughout the Pacific. The naval shipyard extends use of its facilities to service commercial ships.
• The Pacific Missile Range Facility at Barking Sands, Kauai, is the world's largest multidimensional testing and training range, and the only one in the world where submarines, surface ships, aircraft and space vehicles can train and be tracked simultaneously. It is the key R&D site for the nation's ballistic-missile-defense program and the Navy's premier anti-submarine warfare testing and training range.
• Since 2002, a 50-year contract to privatize the military family housing program has created billions of dollars in business opportunities. Ohana Military Communities and Lendlease Hawaii have contracted with many of Hawaii's small businesses to develop, service and manage military residential communities for more than 17,000 homes throughout Oahu.
• Hawaii is the only single location in the world hosting the headquarters for the largest U.S. combatant command (U.S. Pacific Command), the Pacific component commands for the U.S. Army, Navy, Marine Corps, Air Force and Coast Guard, and combat-ready land, sea and air forces.
• The defense industry has the largest industry-related workforce in Hawaii, providing more than 97,500 jobs with annual household incomes totaling $8.7 billion and representing 16.5 percent of Hawaii's total workforce.
• The Pearl Harbor Naval Shipyard is the largest industrial and repair complex and employer in Hawaii, with a workforce of nearly 5,000 civilians and military personnel. The total value of the shipyard is $2.54 billion, with more than $925 million funneling into Hawaii's economy annually.
• The Coast Guard is the maritime workhorse in the island state, saving hundreds of lives and millions of dollars in property annually by completing search-and-rescue missions by sea and air.
• Hawaii's military community totals nearly 145,900 military members and dependents, including close to 60,000 active-duty, Reserve and National Guard members, more than 66,100 dependents and 19,720 Department of Defense civilians.
• Hawaii's population includes more than 116,800 veterans, of which nearly 17,000 are military retirees. This represents 11 percent of Hawaii's population.
For more information, visit www.cochawaii.org/military-impact-in-hawaii.
Hawaii Time
During standard time on the mainland U.S., Hawaii lags two hours behind the West Coast, four hours behind the Midwest and five hours behind the East Coast. And since Hawaii does not observe daylight saving time, add an hour to those time differences between March and November.
Climate
Weather on Hawaii is best described in terms of just winter and summer. Summer runs from May to October, while the somewhat cooler, wetter winter extends from November through April. On Oahu, summer daytime temperatures in Honolulu range from 85 to 89 degrees, with nighttime lows of 71 to 75 degrees. Winter daytime temperatures range from 65 to 75 degrees, and nighttime lows, from 64 to 68 degrees.
Geography
Eight islands make up the state of Hawaii, a 1,600-mile-long island chain born of volcanic fire. It is composed of islands, islets and shoals that link Hawaii, at the still-active southeast end, with Kure or Ocean Island, a mere fragment of an ancient volcano beyond Midway. Measuring from its submarine base (3,280 fathoms) in the Hawaiian Trough to the top of the mountain (13,796 feet), Mauna Kea on the Big Island is the tallest mountain in the world at 33,796 feet, counting the distance from the bottom of the nearby ocean floor to the peak of the island.
State Symbols
Marine Mammal: The humpback whale, an annual visitor to Hawaiian waters and so designated in 1979.
State Anthem: "Hawaii Pono'i," written by King Kalakaua and set to music by Henri Berger, the royal bandmaster. It was also the anthem of the Kingdom and the Territory of Hawaii.
State Bird: The nene (pronounced nay-nay) is a type of goose that has adapted to life in the harsh lava country by transforming its webbed feet into a claw-like shape and modifying its wings for shorter flights. Hunting and predators all but wiped out the species until law and a restoration project established in 1949 protected the birds.
State Fish: The humuhumunukunukuapua'a, a tropical reef triggerfish, was chosen as the state fish by a state survey in 1984. Here's how to pronounce it: who-moo-who-moo-noo-koo-noo-koo-ah-pooah-ah.
State Flag: The state flag has eight stripes (representing the eight major islands) of white, red and blue; the field resembles the Union Jack of Great Britain, from which the original flag apparently was designed, a remnant of the British Empire's influence on Hawaiian history.
State Flower: The yellow hibiscus brackenridgei is the state flower. The official flowers or lei materials for each island are Hawaii, red pua lehua (ohia); Maui, lokelani (pink Damask rose); Molokai, white pua kukui blossom; Kahoolawe, hinahina (beach heliotrope); Lanai, kauna'oa (yellow and orange air plant); Oahu, yellow pua 'ilima; Kauai, mokihana berry; and Niihau, white pupu shells.
State Motto: "Ua mau ke ea o ka aina i ka pono" means "the life of the land is perpetuated in righteousness." The saying is attributed to King Kamehameha III on July 31, 1843, the day that sovereignty was restored to Hawaii by proclamation of Queen Victoria after a five-month-long rogue British occupation.
State Seal: A heraldic shield in the center, a figure of King Kamehameha I on its right side and the Goddess of Liberty holding the Hawaiian flag on its left. Below the shield is a phoenix surrounded by taro leaves, banana foliage and sprays of maidenhair fern. Statehood was achieved in 1959. With color added, the seal becomes the state coat of arms.
State Tree: The kukui, better known as the candlenut, is the Hawaii state tree. The nuts of this tree provided the ancient Hawaiians with light, oil, relishes and medicine.
Quality of Life
Hawaii is one of the world's most popular tourist destinations with stunning scenery, commitment to environmental protection, cultural diversity and friendly people. Cool trade winds and rainfall contribute to moderate temperatures year-round, averaging below 78 degrees in the cooler months and rarely rising above 90 degrees in the summer. All these factors add up to consistent top placement on the "best places to live in the United States" lists. Hawaii residents take advantage of all the islands have to offer, and not surprisingly, its citizens have the longest average life expectancy in the nation.
Tourism
Although Hawaii's economic development continues to expand, tourism still has the most influence on the state's economy, affecting all facets of life on the islands. In 2015, Hawaii welcomed more than 8.6 million visitors, who spent over $15 billion in the state, according to Hawaii Tourism Authority. Residents can expect premium rates and a high tourist presence mid-December through March. Spring and fall are considered low seasons.
Recreation
With a near-ideal, year-round climate of mild temperatures, moderate humidity and cool trade winds, Hawaii residents can enjoy many different outdoor activities. The state has seven national parks, 77 state parks, nearly 600 county parks and several botanical gardens. There are more than 1,600 surfing sites, highlighted by Maui and Oahu's nearly unbeatable surf and wind conditions. In addition to miles of coastline beaches, the state offers over 100 golf courses and more than 280 public tennis courts.
THE ISLANDS
Oahu
The island of Oahu, formed by two volcanic domes, serves as the main commerce port for all of Hawaii. Though Oahu is the third-largest of the Hawaiian Islands in landmass, it is the largest in population with just under 1 million people, about 72 percent of the state's 1.4 million residents.
On the south side of Oahu is Hawaii's state capital, Honolulu, which means "the gathering place." Honolulu is home to the major business district, education center, international airport, busiest sea ports, military bases and all government offices for Hawaii. Famous Honolulu attractions include Waikiki, one of the world's most photographed beaches; and Pearl Harbor, the battle site that precipitated the United States' entry into World War II. On the north side of Oahu, often referred to as the North Shore, are world-famous surfing locations Waimea Bay and Sunset Beach.
The island's eastern coast is home to the towns of Kailua, Kaneohe, Kahaluu, Kahana and Laie. The Waianae Coast, on the west side, is less traveled than other parts of the island. There are several ancient ruins, plantation homes and the Ku'ilioloa Heiau, a Hawaiian temple, there.
Oahu Landmarks and Attractions
Ala Moana Beach Park: A beautiful 76-acre public park with sandy beach, swimming lagoon, surfing grounds, dressing pavilions, food stands, picnic tables, harbors, ponds and bridges.
Ala Moana Shopping Center: In the heart of Honolulu, it is the world's largest multilevel shopping center with more than 300 shops and restaurants and abundant parking spaces.
Aloha Stadium: A major feature near Pearl Harbor and Aiea, and site of the Pro Bowl, Hula Bowl and many other athletic events. Built in 1975, the stadium seats 50,000 people. The stadium also serves as the home of the Aloha Stadium Swap Meet and Marketplace or "Flea Market" on Wednesdays and weekends.
Aloha Tower: Honolulu's familiar landmark is open to visitors and offers an excellent view of the harbor area.
Battleship Missouri Memorial: The USS Missouri arrived in Pearl Harbor on June 22, 1998, to serve as a battleship memorial and museum. Visitors first gather at the USS Bowfin Memorial for ticketing and a shuttle over the Ford Island Bridge to the memorial. Missouri is known as the "Mighty Mo" to many who served on her and was the last of the great battleships to be completed by the U.S. Navy. It was on board the Missouri's O1 veranda deck that Gen. Douglas MacArthur and Fleet Adm. Chester Nimitz, along with other U.S. and Allied officers, accepted the formal surrender of the Japanese at the close of World War II. Visit www.ussmissouri.org for more information.
Bishop Museum and Planetarium: At 1525 Bernice St., the museum houses the world's foremost collection of Hawaiian and Polynesian antiquities.
Byodo-In Temple: Japan's 950-year-old architectural treasure is duplicated in smaller scale but in exact detail at the Valley of the Temples Memorial Park beneath the majestic cliffs of the Ko'olau Mountains. The beautiful Oriental garden setting also has a Japanese koi carp pool, 9-foot Buddha statue and teahouse.
Chinatown: Unlike the Chinatowns in other American cities, this section of downtown Honolulu is an exciting blend of shops, restaurants and markets displaying not only Chinese goods but wares and foods typical of the countries of origin of Hawaii's early-day immigrants.
Diamond Head: This world-renowned landmark bounds Waikiki Beach on the south. An extinct volcano, it is said to have once been the home of Pele, the Fire Goddess.
Dole Cannery Square: The Hawaiian Pineapple Cannery Division of Castle & Cooke, Inc., is on Iwilei Road. Dole Cannery Square, now a retail and office complex, is open to the public to tour and shop.
East-West Center: A center for cultural and academic interchange between the peoples of Asia, the Pacific and United States. Established by the U.S. Congress in 1960, the center has since become a public, nonprofit educational corporation with offices and facilities adjacent to the University of Hawaii campus.
Foster Botanical Garden: Remarkable botanic displays, including the photogenic orchid section, in a 20-acre setting in downtown Honolulu.
Gunstock Ranch: Experience Hawaii as a Paniolo (Hawaiian cowboy). The ranch offers horseback riding through the Ko'olau Mountain Range on the North Shore of Oahu. Rides are suitable for all skill levels, and visitors also can enjoy pony rides, a petting zoo, pool, campfire and cowboy games.
Halona Blowhole: Near Koko Head, playful Mother Nature forces the mighty sea through a tiny hole in a lava ledge and blows miniature geysers high into the air.
Hanauma Bay: A delightful sea cove in Koko Head Park, its rugged grandeur was created by volcanic action 10,000 years ago when Pele made her last attempt to find a home on Oahu, or so legend tells. A favorite spot for swimming and snorkeling.
Hawaii Nature Center: The Hawaii Nature Center of Oahu offers school programs and weekend family programs and hosts birthday parties and intersession camps.
Hawaii's Plantation Village: Step back in time to when "sugar was king" and experience the "real Hawaii." At Hawaii's Plantation Village in Waipahu, a living history museum and ethno-botanical garden, local guides open a door to a bygone era. Immerse yourself in the diverse cultures and lifestyles and hear the stories of struggle and triumph of immigrants that came from China, Portugal, Japan, Puerto Rico, Korea, Okinawa and the Philippines to work on Hawaii's sugar plantations. Explore more than 25 authentic plantation homes and structures. In addition to guided tours, Hawaii's Plantation Village offers cultural festivals and live ethnic demonstrations throughout the year.
Helemano Plantation: Next to Dole Plantation, Helemano Plantation used to be a plantation school for pineapple workers and their families. Its gardens include the macadamia nut tree, pomelo, Kona coffee, papaya, apple, banana, sugarcane, pineapple, different varieties and colors of hibiscus, bird of paradise, torch ginger, goji berry and more. Helemano Plantation has also been the site for numerous hail and farewells, breakfast meetings and Christmas parties for the military, especially from Schofield Barracks.
Honolulu Zoo: At 151 Kapahulu Ave., the zoo is open daily and is home to more than 1,200 animals from Hawaii and around the world.
Iolani Palace: The only throne room under the American flag, where Hawaii's last two monarchs lived and ruled. Completed in 1882, the building has been entirely renovated, displaying a magnificent interior.
Kaneana Cave: Near Mauka just before the end of Farrington Highway, Nanaue, the fearsome sharkman half-deity, is supposed to have made his home in this cave, which is volcanic and coral in formation.
Kawaiaha'o Church: Dedicated in 1842, the "Westminster Abbey" of Hawaii offers Sunday services in Hawaiian and English. The church, along with the Mission Houses, compose the Hawaiian Mission Houses Historic Site, which was designated a U.S. National Historic Landmark in 1962.
Laie Hawaii Temple: Built in beautiful Laie in 1919, the Laie Hawaii Temple was the first Mormon temple to be constructed outside Utah and is the fifth-oldest Latter-day Saints temple still in operation.
Mission Houses: The oldest existing buildings erected by the first missionary contingent to Honolulu are in the civic center area, which is also the locale of many other historic sites.
National Memorial Cemetery of the Pacific: The Punchbowl, or Puowaina, literally translated "hill of sacrifice," is the final resting place of thousands of World War II, Korean and Vietnam War veterans. Open daily, it overlooks the vast expanse of Pearl Harbor, Honolulu and Waikiki.
Nu'uanu Pali: Oahu's scenic masterpiece at the head of Nu'uanu Valley is where Kamehameha the Great defeated the Oahuans in a bloody battle in 1795 by forcing hundreds of warriors over the precipice to meet death on the jagged rocks below, thus adding Oahu to his realm
Old Sugar Mill: Near Ka'a'awa are the stone ruins of the Kualoa Sugar Mill, first sugar mill on Oahu, erected in 1864.
Pacific Aviation Museum: The Pacific Aviation Museum on historic Ford Island occupies two hangars and the Ford Island Control Tower that still bears the scars of the U.S. aviation battlefield. Visitors to the museum arrive via shuttle at Ford Island, a former Naval Air Station and National Historic Landmark in the middle of Pearl Harbor. From the island's iconic 158-foot control tower to the World War II-era hangars that house the museum's aircraft collection, signs of the 1941 Japanese surprise attack are visible to this day. Visit www.pacificaviationmuseum.org for more information.
Pacific War Memorial, Marine Corps Base Hawaii, Kaneohe Bay: An Iwo Jima memorial built on Marine Corps Base Hawaii to honor all who served in the Pacific theater of operations during World War II, those residents of Hawaii who during the war years befriended and supported military personnel, and those in our armed forces who continue to serve our great nation. Visit www.mccshawaii.com/pacificwarmemorial for more information.
Polynesian Cultural Center: On the north shore of Oahu in Laie, the center is made up of native villages representative of those in Aotearoa, Fiji, Tonga, Tahiti, Samoa, the Marquesas and Hawaii.
Queen Emma Summer Palace: A charming home in Nu'uanu Valley, the former summer palace has been restored to its original appearance and houses a fine collection of Hawaiian artifacts.
Royal Hawaiian Shopping Center: In the center of Waikiki, this shopping mecca contains over 150 shops and restaurants and has something for everyone. You can purchase anything from fine designer garments to fun-in-the-sun apparel, from precious gems to splashy costume jewelry and Hawaiian treasures, from fine dining in many restaurants to fun hot dogs and ice cream. There are boutiques, sporting goods stores, jewelry stores, craft shops — almost everything conceivable.
Sea Life Park: At Makapu'u Point's Sea Life Park, see an outstanding display of Hawaii's exotic marine life in a beautiful oceanside setting. The 300,000-gallon Hawaiian reef tank, one of America's finest aquariums, houses 2,000 island specimens: sharks, rays, moray eels, turtles and exotic reef fish. Check out giant whales, dolphins, sea lions, penguins and a variety of sea birds.
U.S. Army Museum of Hawaii: At Fort DeRussy, the museum exhibits tell the story of the Army in Hawaii and the Pacific area, the military history of Hawaii and the contributions that Hawaii's citizens have made to national defense. Visit www.hiarmymuseumsoc.org for more information.
USS Arizona Memorial and World War II Valor in the Pacific National Monument: The USS Arizona Memorial is the final resting place for many of the battleship's 1,177 crew members who lost their lives during the Dec. 7, 1941, Japanese attack on Pearl Harbor. The memorial commemorates the site where World War II began for the United States. Off Kamehameha Highway, near Pearl Harbor, the National Park Service operates the visitor center at the World War II Valor in the Pacific National Monument and provides the only public access by Navy shuttle boat out to the memorial. Visit www.nps.gov/valr for more information.
USS Bowfin Submarine Park: Off Kamehameha Highway near Pearl Harbor, this 3.5-acre site is named after the historic restored World War II submarine USS Bowfin, which is moored at the park and open to the public. Other attractions include the Pacific Submarine Museum, submarine battleflags, and submarine missile and torpedo exhibits. Visit www.bowfin.org for more information.
Waimea Bay: Between Haleiwa and Kahuku, the beach is fine for picnicking, but the bay is dangerous for swimming when surf is 6 feet or more.
Waimea Falls Park: This narrow canyon extending into the Ko'olau Mountains was once a heavily populated Hawaiian village. Today, the 1,800-acre site between Haleiwa and Kahuku is a dwelling for nature's lovely, unspoiled environment of tropical plant life, birds, hiking trails and a beautiful waterfall.
Waimea Valley: Waimea Valley is more than just a beautiful walk on a shaded and paved path through cultural sites and botanical gardens to a 45-foot waterfall where you can swim. It is a rich and culturally significant wahi pana (storied place).
Waikiki Aquarium: On Kalakaua Avenue across from Kap'iolani Park at Waikiki, the aquarium contains a world-famous collection of brilliantly colored tropical fish.
Maui
Maui, also known as the "Valley Isle," was named for the Hawaiian trickster demigod. It is the second-largest of the populated Hawaiian Islands with about 165,000 people and covers more than 1,161 square miles. Two volcanoes formed the island of Maui, including the 10,023-foot Mount Haleakala — the world's largest dormant volcano — and Pu'u Kukui. Until the late 1960s, Maui was primarily an agricultural island producing mainly sugar and pineapple. In the early 1970s, with the development of several resort areas, the driving force behind the island's economy changed to tourism.
On the west side of Maui are the resort communities of Ka'anapali, Kapalua and Lahaina. Ka'anapali and Kapalua have championship golf courses and beachfront hotels. Lahaina, a historic whaling town, is a national landmark entrenched in Hawaiian history. The island's business center is made up of the towns Kahului and Wailuku, both in central Maui. Kahului is the island's port city, while Wailuku is the county seat. East of Kahului on the Hana Highway is the most visited part of the island, Hana. Often called "heavenly Hana," this section of the island features spectacular waterfalls and coastlines. Up the slopes of Mount Haleakala is Upcountry Maui. The towns of Makawao, Kula and Ulupalakua are upcountry and offer astounding views and botanical gardens.
Maui Landmarks and Attractions
Alexander & Baldwin Sugar Museum: The award-winning Alexander & Baldwin Sugar Museum is a repository of information and exhibits about one of the most significant and influential periods in Maui's history. The 1,800-square-foot museum not only charts the establishment and growth of the sugar industry but looks at sugar's influence on the development of Maui's water resources and rich, multiethnic makeup, and features intriguing displays on the inner workings of a sugar mill.
Hana: An undeveloped eastern coastline town with beautiful state beaches and a national park. Known for the scenic Hana Highway, the road to town contains 600 curves and 54 bridges and leads through lush landscapes of flourishing rain forests, flowing waterfalls and dramatic seascapes. Swim and sunbathe at Hana Beach Park. Snorkel at Waianapanapa State Park, a glistening black sand beach. Or hike to the isolated Kaihalulu Beach, also known as Red Sand Beach, for its red cinder sand.
Haleakala National Park: Stretching across east Maui, Haleakala National Park is home to Haleakala Crater, the largest dormant volcano on earth. Rising more than 10,000 feet above sea level, Haleakala's graceful slopes can be seen from just about any point on the island. You can explore Haleakala at your own pace by car, bike or foot. The park is open year-round, 24/7, except for severe weather closures.
Hawaii Nature Center: The Hawaii Nature Center of Maui is committed to sharing the natural, historical and cultural wonders of the island through its visitors programs and environmental education for the children of Maui. The center's interactive nature museum and guided rain forest walks are designed to interpret and foster experiencing Hawaii's natural history both in a museum setting and in the natural environment.
Honolua Bay: On Maui's north shore, Honolua Bay is a favorite spot for experienced surfers. During the winter high surf season, Honolua has been known to have a hollow, powerful wave that offers incredibly long rides. The bluffs above the bay are a perfect vantage for visitors to watch the pros. During the calmer summer, Honolua Bay is a popular destination for snorkeling and scuba diving. As part of the Mokuleia Marine Life Conservation District, Honolua Bay has an abundance of fish and coral formations to explore. The shoreline here is narrow and rocky, so sunbathing isn't ideal.
Kula Botanical Garden: Opened in 1971, Kula Botanical Garden was developed by Warren and Helen McCord. The garden on an 8-acre site features proteas, orchids, bromeliads and native plants. The natural setting provides unusual rock formations, waterfalls, ponds and a panoramic view of the valley and west Maui mountains. The garden holds an aviary, koi pond, bird sanctuary with the Hawaiian nene goose and picnic areas, and the gift shop offers beverages, snacks and made-in-Hawaii products.
Lahaina Historic Walking Tour: Savor the simplicity of an earlier time by picking up a free walking map at the 1834 Baldwin Home, your first stop in historic Lahaina. Begin the tour by reading the riotous 1901 "Rules of the House" at the old Pioneer Inn overlooking the waterfront. Then peek in at the Hale Pa'ahao (stuck-in-irons house) — aka the jail. Keep on walking to pretty Maria Lanakila Church. Take a break and stop for lychee-flavored ice cream: You'll need the fuel to see all 55 acres of Lahaina's designated historic districts.
Lahaina Jodo Mission: A replica of an authentic Japanese Buddhist temple, the mission is beautifully set against the West Maui mountains. Explore these peaceful grounds and you'll discover a towering pagoda and an enormous bronze Buddha statue, 12 feet high and roughly 3½ tons. Installed in 1968 to commemorate the 100th anniversary of Japanese immigrants in Hawaii, this is one of the largest statues of the Buddha outside Japan.
Maui Arts & Cultural Center: This fine visual and performing arts complex offers a variety of cultural activities, concerts, dance performances, art exhibits, weekly films, theater and a full spectrum of music events.
Old Lahaina Luau: Settle under the stars for a traditional Hawaiian luau. Dine on kalua pig cooked all day in an imu (earth oven), haupia (coconut pudding) and an expansive menu of more familiar dishes. Get there early to see lei weavers, wood carvers and poi pounders at work. See dancers perform the ancient and modern hula. You'll learn Hawaii's history the traditional way — through chants, songs and dances. Talk with the artisans, take a hula lesson yourself or play some traditional Hawaiian games.
Waimoku Falls: At the end of the Pipiwai Trail, Waimoku Falls is one of Maui's best hikes. About 9 miles beyond Hana, the Haleakala National Park is the starting point for the Pipiwai Trail. The trail follows the stream that feeds Oheo Gulch and ends overlooking Waimoku Falls, which cascade down 400 feet of sheer rock. The trek requires three to five hours, so it's best to start early.
Whale Center of the Pacific: Two free exhibits are at the Whalers Village in Ka'anapali. Whalers Village Museum covers the history of Lahaina's whaling industry including the re-created sleeping quarters of a whaling ship and an extensive scrimshaw collection. Hale Kohala (House of Whale) showcases the scientific story of whales with interactive fun and marine models.
Hawaii
The island of Hawaii, often referred to as the "Big Island," is the largest of the Hawaiian Islands. Covering about 4,028 square miles, the island is still growing because of the continual eruptions of Kilauea, the most active of the state's volcanoes. The Big Island is also home to Mauna Loa, considered the largest volcano on Earth, and Mauna Kea, Hawaii's highest mountain at 13,803 feet. The population is about 196,000.
Ranching and agriculture serve as the Big Island's economic mainstays. Major products include Kona coffee, macadamia nuts and tropical flowers. Resorts and most residential developments are in coastal areas such as Kailua-Kona, Hilo and the Kohala Coast. Kailua-Kona, on the Kona Coast, was the home of Kamehameha the Great in the late 1700s. Kamehameha's palace grounds, still in this small town, help make Kailua one of the Big Island's major tourist areas. Hilo, on the east side of the island, is the county seat of the island of Hawaii. This is where many area attractions can be found, such as Wailoa River State Recreation Area, Liliuokalani Gardens and Coconut Island. The Kohala Coast is on the north side of Hawaii and is home to the historic Waipi'o Valley (Waipi'o Valley is on and accessed from the Hamakua Coast) and several resort areas with luxury hotels and spectacular golf courses.
Other attractions include several heiaus (Hawaiian temples) such as Pu'uhonua O Honaunau National Historical Park, the Mo'okini Luakini Heiau and the Wahaula Heiau; Kealakekua Bay, where Capt. James Cook was killed in the late 1700s; and Ka Lae, or South Point, the southernmost point in the United States.
Hawaii Landmarks and Attractions
Akaka Falls State Park: Park visitors can view two gorgeous waterfalls on the northeastern Hamakua Coast during one short hike. A pleasant half-mile uphill trek winds through a lush rain forest of wild orchids, bamboo groves and draping ferns to 100-foot Kahuna Falls, and just around the bend, 442-foot Akaka Falls, plunging into a stream-eroded gorge. Beautiful Akaka Falls is perhaps the Big Island's most famous waterfall. Easily accessible, this hike takes less than an hour.
East Hawaii Cultural Center: Voted the best art gallery in East Hawaii by 40,000 Hawaii Tribune Herald readers in 2016, the East Hawaii Cultural Center exhibits contemporary and traditional visual arts by local, national and international artists. Established in 1967, the cultural center's building is on the state and national historic registry. Theater, dance and Shakespeare in the Park are some of the performing arts programs held there.
Hawaii Volcanoes National Park: One of Hawaii's top attractions, this 505-square-mile park on Hawaii's Big Island is a living museum where visitors can witness the power of Hawaii's volcanoes at surprisingly close range. You can hike along rocky trails and desolate deserts that, in time, will flourish and thrive with new life. There are two active volcanoes in the national park: Mauna Loa and Kilauea.
Hulihe'e Palace: The palace was built in the early 1800s by John Adams Kuakini, governor of the island of Hawaii during the Kingdom of Hawaii, out of lava rock. The outside was plastered over in 1885 to give it a more refined appearance. The palace served as a vacation home of Hawaiian royalty and was later converted to a museum run by the Daughters of Hawaii, showcasing furniture and artifacts.
Lyman Museum and Mission House: The Lyman Museum and Mission House holds Hawaiian artifacts and natural history collections as well as the restored home of David and Sarah Lyman. Built in 1839, the Lyman House is the oldest wood-frame structure on the island and can be seen on a docent-led tour. Interactive museum exhibits provide an excellent introduction to the natural history of Hawaii.
Palace Theater: This historic 500-seat theater in Hilo offers fine films, concerts, live theater and special events, among them the popular Silent Movie Nights.
Paradise Helicopters: For spectacular views of the Big Island including lava flows, the volcano and waterfalls, fly to some of the most remote and private locations. Experienced pilots are well-versed in Hawaiian geology, history and culture. With 12 tours to choose from you're sure to find one that's a perfect fit.
Pu'uhonua o Honaunau National Historical Park: The historical park preserves the site where, up until the early 19th century, Hawaiians who broke a kapu (one of the ancient laws) could avoid certain death by fleeing to this place of refuge. The grounds just outside the Great Wall that encloses the pu'uhonua were home to several generations of powerful chiefs.
Kauai
Kauai is the fourth-largest of the Hawaiian Islands as well as the oldest and least populated, with 71,000 people for its 620 square miles. Referred to as the "Garden Isle," Kauai is covered with lush tropical rain forests, some of which receive more than 400 inches of rain annually. The island was formed by Mount Wai'ale'ale, a volcano that rises more than 5,000 feet in the center of the island.
The coastline on the northwest side of Kauai offers some of the most dramatic scenery of all the Hawaiian Islands. It contains the Na Pali Cliffs, which can be fully viewed only by air or sea; Koke'e State Park; and Waimea Canyon, Hawaii's "Grand Canyon." The south side of the island offers white, sandy beaches, sunny weather and many historical sites. Lihue, Kauai's main town, is home to state and county buildings and has a plantation-like feel, with its architectural design and slow-pace lifestyle. North of Lihue are the lush tourist destinations of Hanalei and Princeville. Here in the valleys along the Hanalei River are taro patches, waterfalls and lush forests.
Kauai Landmarks and Attractions
Hanalei National Wildlife Refuge: Established in 1972, Hanalei National Wildlife Refuge is the oldest of Kauai's three national wildlife refuges. The 917-acre refuge, in the Hanalei River Valley on Kauai's north shore, was established to conserve five endangered water birds that rely on the Hanalei Valley for nesting and feeding habitat.
Kilauea Lighthouse and Wildlife Refuge: Kilauea Point National Wildlife Refuge was established in 1985 by the U.S. Fish and Wildlife Service and is marked by its towering lighthouse. The ocean cliffs and tall grassy slopes of a dormant volcano provide a protective breeding ground for many Hawaiian seabirds and include Hawaiian monk seal colonies and a short, self-guided coastal hike.
Koke'e State Park: There are seven main hiking trails in Koke'e State Park with views of the ocean and Kalalau along the way.
Menehune Fishpond: The Menehune Fishpond, near Lihue, is a historic Hawaiian fishpond. Also known as Alekoko Fishpond, it has been listed on the U.S. National Register of Historic Places. It is so old that its construction is attributed to the mythical Menehunes, the mischievous little people inhabiting Hawaii before the Hawaiians arrived.
Na Pali Coast State Park: The Na Pali Coast State Park is a 6,175-acres state park in the center of the rugged 16 miles along the northwest side of Kauai. Although inaccessible to vehicles, this coast can be enjoyed overland by hiking or in a helicopter, and from the ocean by kayak and paddleboard.
Old Sugar Mill of Koloa: The Old Sugar Mill of Koloa was part of the first commercially successful sugarcane plantation in Hawaii. This was the beginning of what would become Hawaii's largest industry. The building was designated a National Historic Landmark in 1962. A stone chimney and foundations remain from 1840.
Safari Helicopters: About 80 percent of Kauai is uninhabited, remote and wild. For 27 years, Safari has taken passengers to the inaccessible wonders of the Garden Island, the oldest of the main Hawaiian islands. Choose from a Deluxe Waterfall Tour or a Refuge Eco-Tour.
Wailua Falls: Wailua Falls is as picturesque as Hawaiian waterfalls get. It's close to the road, one of the few waterfalls you don't have to hike to in order to get up close and personal.
Waimea Canyon: Nicknamed the Grand Canyon of the Pacific, Waimea Canyon is a large canyon, about 10 miles long and up to 3,600 feet deep. Formed by erosion from the Waimea River, the canyon boasts a colorful array of red, brown and green hues that are complemented by waterfalls and frequent rainbows. The canyon is laced by challenging hiking and hunting trails.
Lanai
Lanai, sometimes called "Pineapple Island," is the sixth-largest island in the Hawaiian chain, covering about 140 square miles, with a population of about 3,500. Formed by the Palawai volcano, the island is often thought of as "Hawaii's most secluded island." Lanai was once owned and operated as a pineapple plantation by the Dole Co., Hawaii's primary pineapple producer. Although agriculture and ranching are still vital parts of the economy, the island — now owned by Oracle CEO Larry Ellison since 2012 — is better known as a resort destination.
Lying at the base of the mountains, Lanai City is the main town where most of Lanai's residents live. A few miles from Lanai City are the spectacular Hulopoe Bay's secluded beaches and crystal-clear water. The Lodge at Ko'ele, in the tranquil mountains of Lanai, is an upscale resort with a Greg Norman golf course. On the south side of the island is Kaunolu Village, now a historic landmark that houses some of the best-preserved ruins and petroglyph carvings from ancient Hawaii. The village was also a favorite fishing spot of Kamehameha the Great.
Molokai
Often called the "Friendly Isle," Molokai is the fifth-largest of the Hawaiian Islands, covering 264 square miles, with a population of 7,400. The island was formed by two volcanoes, Kamakou and Kauhako, which give Molokai a shoe-like appearance. Molokai's small population includes a large contingency of native Hawaiians. The island is free of many aspects of modern society such as high-rises, fast-food restaurants and traffic lights, and this old-Hawaiian feel has given Molokai the moniker "Most Hawaiian Island."
Molokai is best known for its small peninsula known as "Kalaupapa." This isolated section of the island was set apart for people with Hansen's Disease (leprosy) in the 1800s. Kaunakakai, on the south side, is the main town and harbor of Molokai. To the west of Kaunakakai is the resort destination of Kaluakoi. To the east of Kaunakakai is the Halawa Valley, one of the earliest settlements in the Hawaiian Islands. The Halawa Valley, still home to taro farmers and fishermen, has some of the most dramatic scenery in all of Hawaii.
Molokai Landmarks and Attractions
Church Row: On Sundays, listen to the music coming from one of the seven tiny churches along "Church Row" in Kaunakakai. Some of these picturesque churches date to the late 19th century. The music is lovely and is usually sung in Hawaiian. Himeni (hymns) were the first Hawaiian songs composed after the introduction of Western musical instruments and melody.
Halawa Valley: Hike into this classic Hawaiian "cathedral valley" to discover beautiful vistas, rich flora and rare Hawaiian plants and animals. With so many hidden heiau, or Hawaiian temples, it's easy to see why this is one of the island's most sacred areas. At the end of the trail is the impressive double-tiered 250-foot Mo'oloa Falls, a perfect place to rest, but be advised: The hike in is fairly difficult, and the only way to explore the area is with a guide, as the trail crosses private property.
Kalaupapa National Historical Park: It's quiet as you ride a mule along the 2.9-mile trail to Kalaupapa, perhaps because the trail winds along the highest sea cliffs in the world (recorded in the Guinness Book of World Records) as an endless blue seascape paints the horizon. Traversing the Kalaupapa peninsula is enough to make anyone speechless.
Kamakou Preserve: Climb to a place so hidden and pristine you may even imagine you're the first person to find it. The 3,000-acre Kamakou Preserve east of Kaunakakai is Molokai the way Mother Nature intended. See more than 200 rare plants that can only be found in Kamakou. Tread the 3-mile round-trip Kamakou boardwalk through primal bog and rainforest.
Kapuaiwa Coconut Beach Park: Visit Kapuaiwa Coconut Beach Park off Mauna Loa Highway, a royal Hawaiian coconut grove planted in the 1860s during the reign of King Kamehameha V. Given the hundreds of graceful, laden coconut trees, there is an obvious danger from falling coconuts, so go to neighboring Kiowea Beach Park for a safer, spectacular sunset view of the coconut grove.
Kaupoa Beach: Near Molokai Ranch, Kaupoa Beach is a picture-perfect beach with two cove-like areas divided by a rocky outcrop in the center. The beach has brilliant white sand with crystalline turquoise water. During the summer, the water is often calm, and the swimming can be sublime.
Mo'oloa Falls: Hike into sacred Halawa Valley for a beautiful guided hike ending at the 250-foot, double-tiered, Mo'oloa Falls. Native fruits and flowers surround the trail on this strenuous 4.2-mile round-trip hike.
Molokai Ranch: On the west end of the island in Manua Loa town you'll find a link to Molokai's ranching and plantation past. The Molokai Ranch sprawls more than 53,000 acres, almost one-third of the island but down from about 100,000 acres in its heyday. The tract, a working ranch for more than a hundred years, resumed ranching operations in 2014 after a hiatus, and a year later announced plans to reopen its Kaluakoi Hotel and Maunaloa Lodge, shut down in 2001. For decades, part of the ranch was a fruitful pineapple plantation.
Papohaku Beach: With 3 miles of soft-sand beach, Papohaku Beach (also known as Three Mile Beach) flows uninterrupted down Molokai's west end. Billed as Hawaii's largest white-sand beach, there's plenty of room to spread out and enjoy it. Each May, Papohaku Beach Park is also the setting for the Molokai Ka Hula Piko, the island's biggest cultural festival. Here you'll find campsites, indoor and outdoor showers, picnic and restroom facilities and lots of space to enjoy a beautiful view of Oahu.
Kahoolawe
Contrary to popular belief, neither Oahu nor the Big Island was the original cultural center for native Hawaiians: It was Kahoolawe where navigators and Kahuna trained for Pacific voyages, and some of the oldest temples, or "heiau," are here. However, the island, at 44 square miles, is the smallest of the eight main Hawaiian islands, is now uninhabited and, like Niihau, is off-limits to visitors because of unexploded military ordnance. In the 1800s, the island became agriculturally desolate from disease and the destruction of native vegetation by European animals introduced onto the island. Beginning in the 1920s, the U.S. military began to train there and perform weapons testing, and by 1941 the Navy had gained exclusive use of Kahoolawe for gunnery and bomb training. After several decades of military acquisition, the island was returned to the care of the Hawaii state government in 1994. Federal projects are underway to clear away unexploded ordinance and related debris to restore the island to its original environmental conditions.
Niihau
Niihau is the smallest of the populated islands, covering a little over 70 square miles with a tiny population of around 200. Referred to as the "Forbidden Isle," Niihau is privately owned with access to the island originally limited to the Hawaiian families who lived and worked on Niihau and to their relatives who had moved to other islands. There are no phones or electricity on Niihau, and the official language is Hawaiian. Recently, the owners have begun allowing limited access by helicopter to outsiders, and permission has been granted to visit unpopulated areas of the island. Further loosening of the restrictions is under review.